5 things you should know about Samsung Galaxy S II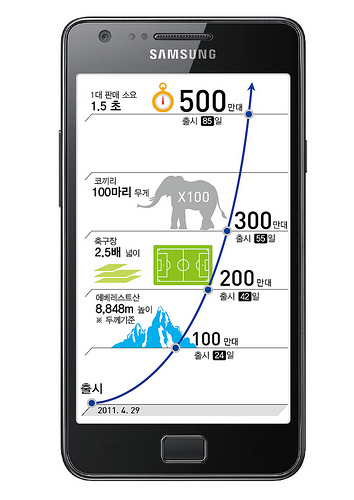 The hottest Android phone is coming to America, as soon as next month from some carriers. Should you grab one or hold out for iPhone 5 -- or something else? Here are some things you should know that otherwise might be lost in the constant babble from tech blogs and news sites obsessed about Apple's next-gen smartphone.
The Samsung Galaxy S II, or S2, announced in February, features a 4.27-inch Super AMOLED display with 800 x 480 resolution; dual-core Samsung processor; 8-megapixel rear-facing and 2-megapixel front-facing cameras; Android 2.3 (Gingerbread); 1080p video recording; Bluetooth 3.0+HS; and HSPA+ network support, among other features.
So what else do you need to know? I'll tell you.
1. Samsung sold 5 million Galaxy S IIs during its first 85 days of availability. That's up from 3 million less than 30 days earlier. Samsung announced the number today, but reached it on July 22. "Galaxy S 2 reached the turning point 40 days earlier than its predecessor: Galaxy S did it in 125 days", according to Samsung. "Galaxy S 2 acquired 56 percent of the entire mobile phone market in Korea last month, and it has topped the mobile phone market share in more than 10 European countries, including the UK, France, Germany, Italy and Spain".
The Apple Fanclub of bloggers and journalists will point out that Apple sold 20.4 million iPhones during 90 days of second calendar quarter. Right, but Samsung reached the 5 million mark without China (where sales started this week) and United States -- the two largest smartphone markets.
2. Galaxy S II will likely lift Samsung smartphone sales above Apple. In defending iPhone against Android handsets, Fanclubbers consistently -- and rightly -- point out that Apple's success comes from just one smartphone set against many. That may be changing. Galaxy S II is looking to be the first credible, Android handset going screen to screen competing with iPhone.
But manufacturer to manufacturer, Apple and Samsung are close. Several analysts estimate Samsung sold 20 million smartphones during second quarter. The company announces earnings on July 29.
3. Reviewers love this phone. "The finest Android phone we've seen so far, the Samsung Galaxy S II isn't just a competitor to the current iPhone. It competes with the next iPhone", writes Sascha Segan for PC Mag.com, giving the smartphone an "Editor's Choice" rating. That last statement is the clincher. Samsung already is one generation ahead of Apple.
"The Galaxy S II's screen is nothing short of spectacular", writes Vlad Savov for Engadget. Praise continues -- from the "onscreen keyboard is terrific" to "general responsiveness is absolutely exemplary". Savov concludes: "It's the best Android smartphone yet, but more importantly, it might well be the best smartphone, period".
For PC Authority, reviewers Jonathan Bray and Nic Healey glow: "The phone is nothing short of remarkable. Its power is unrivalled, its 4.3 inch [screen] is wonderfully bright and colorful, call quality is great and the camera is simply superb".
4. Galaxy S II will have 4G. Well, at least from Sprint and Verizon. Sprint 4G WiMax confirmation comes from the Federal Communications Commission. Verizon confirmed 4G LTE in a tweet earlier today.
5. Battery life will be good enough for most users, but not as good as iPhone 4.  Samsung's flagship smartphone is a monster, in terms of screen size and resolution, dual-core processor and other features. It's reasonable to wonder about battery life.
PC Authority: "In our standard tests over 24 hours the Galaxy S II chewed up around 60 percent of its capacity -- still a fair whack behind the iPhone 4, despite having a bigger 1650mAh battery". If iPhone 4's remarkable battery life is the measure, some buyers may be disappointed.
In an exhaustive battery test, GSM Arena asked: "Are the huge screen and powerful CPU and GPU too taxing on the battery? Well it turns out that they are not...we cannot guarantee everyone will be happy with the Samsung I9100 Galaxy S II battery life, but those that were okay with its predecessor will feel even better with this one".
In a poll at Samsung Galaxy Forums, 20 percent of respondents say they get 18 to 24 hours battery life, while nearly 30 percent get less than 12 hours with heavy use (15 percent of this lot gets less than 6 hours).
Dom "Samsung Mob!ler" Armstrong reports 60 percent charge after 15 hours use: "I think this probably represents fairly typical usage of a phone". Chris Burns, reviewing the Galaxy S II for Android Community, observes that the Super AMLOED screen is "more energy-efficient than other comparably-sized devices", which helps conserve batter life.
Let me close with this question: Will or have you bought Samsung Galaxy S II? Please answer in comments.