PortableApps Platform Pre-Release 2.1: Build the ultimate portable toolkit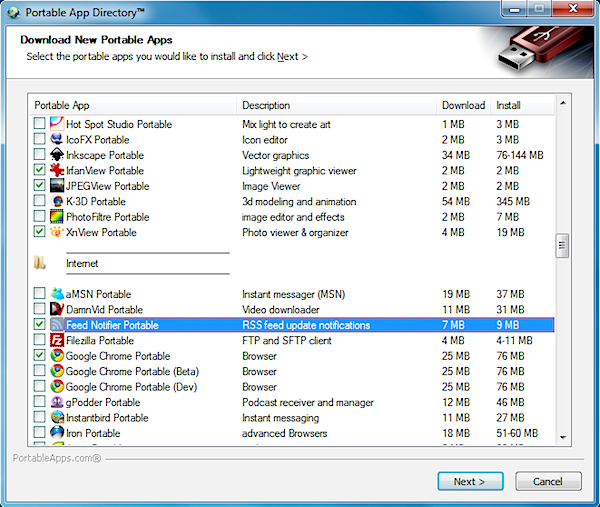 PortableApps.com has released the latest build of its upcoming Platform 2.0, Pre-Release 2.1, a suite of tools which makes it easy to create and manage your own customised portable toolkit.
The Platform's Portable App Directory, for instance, is a capable app store. Just check the boxes next to the programs of your choice (there are games, security tools, utilities, media players, productivity apps, browsers, more than 200 in total) and it'll download and install them onto your USB key drive.
It's tempting to maybe install more than you need, then, but that doesn't have to be a problem. The Platform's menu system automatically organizes apps into categories, so FreeCiv Portable appears in the Games folder, say, while Thunderbird or Chrome Portable are listed in the Internet section. If you'd like to get more creative, then custom folders allow you to organize apps however you like. And if you do ever lose something, then just type a few letters of the missing app's name and the built-in search tool will quickly highlight it for you.
That's impressive enough, but the Platform also offers an Updater, which can automatically check for and download app updates; a theming engine is able to customize your menu's style and color scheme; and some useful tweaks allow you to customize various aspects of the platform to suit your needs.
Pre-Release 2.1 extends all this primarily with a set of bug fixes, some of them significant. For example, the "Check for Updates on Startup" feature not only didn't work in the previous build, but it also blocked Platform updates: thankfully this is now resolved.
This is still a beta, though, with plenty of problems remaining (check the Bug Reports page for a selection) -- but don't let that put you off. Most of the Platform works very well, and in reality its built-in app store will probably save you more than enough time to justify the download, all on its own.