Developer interest in Android increases, approaches iOS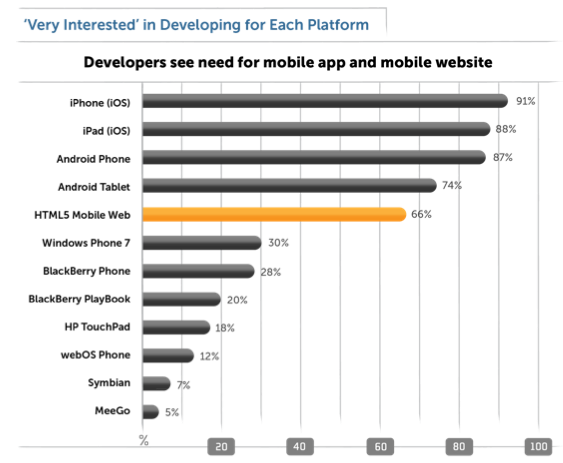 IDC jumps into the debate about Android and mobile developer priorities. Apple's iOS leads the pack, but Android is primed for gains -- even more, if only Google could sort out the messy tablet problem.
Assuming apps really matter -- and IDC's findings suggest perhaps not as much as technorati believe -- then which platforms developers prioritize are important, too. IDC surveyed more than 2,000 developers in late July, finding that 91 percent are "very interested" in iOS iPhone, followed by iPad (88 percent). Android for phone is 87 percent, while 74 percent for Honeycomb. Android interest increased on both phones and tablets -- by 2 and 3 percentage points, respectively, from three months earlier. By comparison, developer interest in iOS was flat for phones and up 2 points for tablets.
Pro-Apple Lobby
The Apple Fanclub of bloggers and reporters will see it differently, of course. I expect to find blogs touting Apple in the top two positions for developer interests. While true, the numbers are close. Consider that 66 percent of developers are "very interested" in HTML5 web apps, which placed fourth position, Fifth-ranked Windows Phone 7 is 30 percent. The point, there's a cluster among the top four.
There is tremendous pro-Apple/iPhone information coming from numerous quarters for lots of reasons -- people invested in Apple; bloggers and journalists using Apple products; writers looking for pageviews (which a hot company can provide); analytics companies looking for attention (and business from it); among others. I find myself repeatedly taking a more-Android perspective as filter against the overwhelming pro-Apple noise.
As such there has been some crazy news about Android and iPhone. Writing for TechCrunch last week, John Biggs asserted that Android handset returns/exchanges are as much as 40 percent, based on a single unnamed source. Two days ago, Piper Jaffray analyst Gene Munster used a tiny sample of 216 people in Minneapolis to claim that 64 percent of future handset buyers planned to buy iPhone. In mid July, Flurry claimed that Android developer new project starts dropped from 36 percent to 28 percent from first to second quarter. IDC's findings are strong rebuttal to Flurry claims, which two Betanews polls didn't support, BTW.
Android Gains
Developer interest in Android increased quarter-on-quarter, and it might have been greater if Honeycomb tablets appealed more to developers.
<!image id=7703 center>
"Android is holding its own against Apple, but new challenges are arising", IDC warns. "Last quarter, we noted that Android tablets had slipped a couple points. Our assessment now is that Android tablets, in the 70-75 percent range, are in somewhat of a 'no man's land' in terms of developer priorities right now as demonstrated by the relatively low numbers of tablet-optimized Android apps. iPhone, iPad, and Android phones have all earned their status as go-to devices, but developers aren't sure what to make of the Android tablet picture, especially in light of the resource requirements necessary to adapt to the changing OS, hardware, and form factor requirements that remain fluid to this day".
Google's Tablet Problem
That's in some ways a kind assessment. Android tablets are caught in that chicken-and-egg dilemma of which comes first: Adoption or applications? If there are users, developers have incentive to write apps. But who adopts without apps? Android is a strong enough platform that it shouldn't matter. So what's the problem? Fifty-two percent of developers told IDC they want the user experience improved, while 46 percent want an easier means of porting apps from phone to tablet.
<!image id=7701 center>
"In January, prior to Android tablets launching at scale, developers said price was the most important issue to consider, Android tablets priced equivalent to or even more expensive than iPad have been a key market inhibitor", according to IDC. "This quarter, however, developers and businesses are much more sensitive to practical issues like user experience, app portability from phones to tablets, and fragmentation. This could be a positive sign for Google as the question could be moving from 'if' to 'how'".
Setting Priorities
The problem is this, as I recently explained. For many developers, it's not the first platform they develop for that's the quandary but the second. Should it be iPad or Android phones (and beyond them tablets). They're not alone. "Anecdotal discussions suggest that many businesses like the premise of Android tablets, want to be on Android tablets, but aren't sure how to make the move given all the other competing priorities and implementation details", according to IDC.
IDC's survey puts iPad and Android phones neck and neck -- and Google's platform gaining. Given Android's huge volume advantage over iOS -- 550,000 activations per day -- a stronger tablet strategy could lift the whole platform higher and close the distances on iOS, regardless of device.
For now, despite the lower number of apps in the Android Marketplace and higher number of free apps compared to Apple's App Store, developer interest in Android is increasing, not decreasing as some other reports claim. While I sometimes gripe about IDC forecasts, its surveys tend to be quite reflective of real-time trends.