Apple-HTC patent dispute: Dark Side of the Force?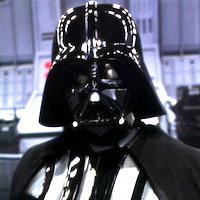 Apple's patent bullying continues -- competition by litigation rather than innovation. Today the US International Trade Commission agreed to investigate five patents Apple claims that HTC violates.
Perhaps Apple smells blood in the water, from an earlier, somewhat favorable ruling. The company sued HTC for patent infringement in March 2010; at the time, HTC was one of the largest -- if not the largest -- Android licensees. I called the lawsuit "competition by litigation" -- "where Apple hopes to scare off mobile manufacturers from licensing Android". Apple's lawsuit alleged HTC infringed 20 patents. It was really an attack on Google and Android and it seemed frivolous. Still, about a month ago, ITC ruled in Apple's favor on two of the 20 patents.
While ITC only ruled in Apple's favor on 10 percent of the patents, even one is enough. InterWeb punditry has been in favor of Apple and against Android and HTC, with a large number of critics ignoring Apple's "throwing spaghetti-against-the-wall" approach to see which patents stick. HTC wasn't an egregious violator of Apple patents. Still, ITC is letting Apple take another shot at HTC. It's penalty goal time, with the new investigation.
"The complaint alleges violations of section 337 of the Tariff Act of 1930 in the importation into the United States and sale of certain portable electronic devices and related software that infringe patents asserted by Apple", according to ITC. "The complainant requests that the USITC issue an exclusion order and a cease and desist order". In other words, Apple wants to bar alleged infringing products from shipping in the United States.
Unlike the courts, or even the US patent office, ITC tends to act swiftly. "The USITC will make a final determination in the investigation at the earliest practicable time", according to the agency. "Within 45 days after institution of the investigation, the USITC will set a target date for completing the investigation. USITC remedial orders in section 337 cases are effective when issued and become final 60 days after issuance unless disapproved for policy reasons by the US Trade Representative within that 60-day period".
Relentless Attack
Recently, Apple has brandished its patent portfolio like a light saber, trying to cut competitors to pieces. But is the Force with CEO Steve Jobs and his cabal of Jedi lawyers? If blogs and news reports were judge and jury, the answer would be yes. However, there is much more Apple litigation ongoing than rulings in its favor -- and the company is losing more than winning. Yet Apple doesn't have to win but merely terrorize. The fear that HTC, Samsung and other alleged patent violators might lose is enough.
The lawsuits are a distraction as much as a weapon to potentially bar allegedly patent-infringing products. Legal threats can cause hesitation everywhere -- among handset manufacturers, software developers, peripheral makers and business or other organization adopters. Hesitation gives Apple time to push back with new products, iCloud, iOS 5 and iPhone 5 -- even iPad 3, if it ships this year. It's the Dark Side of the Force.
Apple needs the time. Android activations are now 550,000 per day and Android smartphone OS market share was 48 percent during second quarter, when Apple and Samsung finished neck and neck -- with 20.3 million and 19.2 million smartphones shipped, respectively, according to Strategy Analytics. Samsung smartphone shipments grew a stunning 520 percent year over year.
Abolish Some Patents?
Two days ago, entrepreneur Mark Cuban offered his "suggestions on patent law", which, I must admit, align with my own sentiments: "End all software patents. Don't make them shorter, eliminate them. I have no problem with software being copyrightable just as it always has been. That is more than enough protection and keeps enough lawyers ungainfully employed". Right, copyrights should be more than enough to protect software, which was more the practice in 1980s. Then again, perhaps Apple got a distaste for copyrights after failing to win meaningful victory against Microsoft with allegations Windows copied Mac OS look and feel.
Cuban continues:
End all process patents. They serve absolutely no purpose. None. If you create a new process, use it. The benefit is from creating the idea and using it in a business to your advantage. Afraid that some big company might steal the idea? That is life. When you run with the elephants there are the quick and the dead. That is a challenge every small company faces. A process patent is not going to make your business successful. The successful execution of business processes will. If we had process patents or the culture of software litigation in the 1980's as we have today current technology would consist of running terminals on DEC and Wang Computers at the local library for $10 per hour and there probably would not be a World Wide Web.

No doubt that by the mid 90?s someone would have sued Marc Andreessen and his friends at the University of Illinois long before Mosaic could ever turn into Netscape. My guess is that the patent attorneys at British Telecom would have been all over them contending that hyperlinking was protected, but for $10 per download they could use them in their new browser.
Patent lawsuits are sure to stifle innovation, particularly in the highly-competitive mobile device market.
Do you agree? Is Apple protecting innovation? Is it on the Dark Side of patent litigation? Should software and process patents be banned? And all existing ones invalidated? Please answer in comments.