People realize oil is more important than iPhones, Exxon retains title as world's biggest company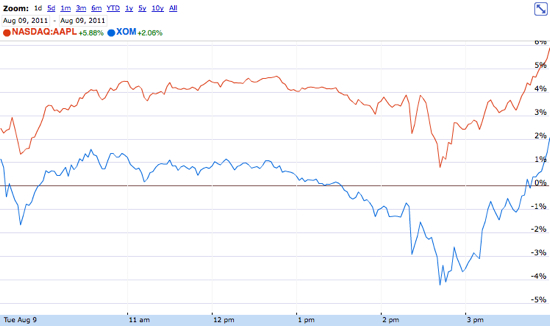 Apple Inc. managed to shoot right past Exxon Mobil in the stock market to become the most valuable publicly-traded company in the world, but the big oil company kept up the fight throughout trading on Tuesday.
As of August 8th, the top ten international companies by market capitalization were Exxon Mobil, Apple Inc, then IBM, Microsoft, Chevron, Johnson & Johnson, Procter & Gamble, AT&T, General Electric, and Coca-Cola. But over the course of Monday and Tuessday, Exxon Mobil's shares fell while Apple's rallied, and the number one and number two companies swapped positions.
Toward the end of the day, Apple's stocks were trading at 4.4%-6% higher than the previous day, and at times was more than $3 Billion ahead of Exxon Mobil. For a time, the market caps of the two companies hovered at $341.55B (Apple) and $341.51B (Exxon), showing just how closely the race was.
But, at the end of trading, Exxon came out on top with 348.61B to Apple's 346.74B, proving that, at least for now, our dependence on oil is greater than our dependence on gadgets.