CCleaner 3.0: New beta supports Mac OS X Lion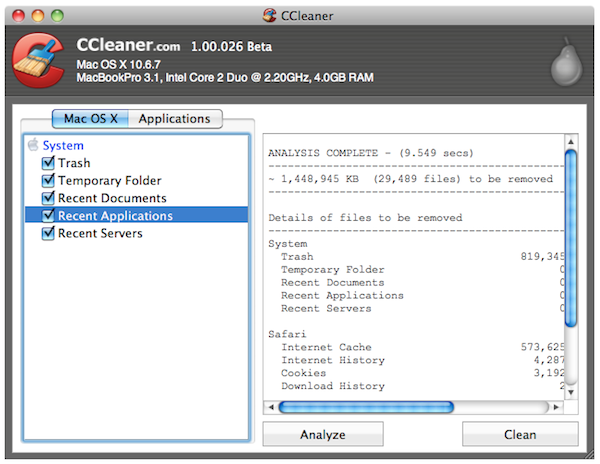 Piriform has released the third public beta of its forthcoming CCleaner for Mac. Based on the popular Windows version, CCleaner for Mac offers various cleaning tools for parts of the operating system, and is a freeware release.
Beta 3's headline feature is that it introduces support for Mac OS X Lion, but it also includes a number of new cleaning options, including Google Chrome and Firefox 6, plus a selection of system caches.
CCleaner for Mac Beta 3 also adds new cleaning options for Recent Places, the Downloads folder, user caches (/Library/Caches) for both current and all users, plus font caches -- this latter option is disabled by default. Private Internet browsing data is now cleaned, too.
There's also a new option for each heading that allows users to check or uncheck all of the included items to either add or remove them from the clean-up operation. A minor tweak is that Front Row, no longer included as part of OS X Lion, has been moved to the non-system applications section.
Piriform has also changed the way it calculates file sizes so 1K now equals 1,000 bytes. There are also a number of unspecified bug fixes and code improvements.
Those wishing to test the software should take a full backup of their system before doing so -- one early bug (since rectified) deleted Parallels virtual machines, highlighting the fact that CCleaner for Mac is still very much a beta product and should be used with extreme caution.
CCleaner for Mac Beta 3 is available as a free download for Macs running OS X (Leopard) or later.CCleaner 3.09 is also available as a freeware download for PCs running Windows 2000 or later.