CopyTrans Manager puts you in control of your iPhone or iPod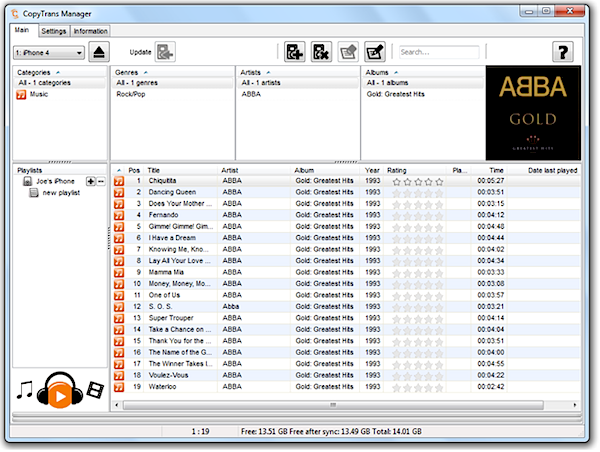 Love for the iPhone and the rest of the Apple portable device family appears to know no bounds, but as soon as you connect it to a computer the niggles start. While an iPod may be sleek and user friendly, the same can't be said of iTunes. Simply adding a new album or removing a couple of tracks can become a deeply frustrating experience with long sync times and annoying waits. It seems very irritating that you can't simply drag and drop the MP3 files that you want to play into your device.
With CopyTrans Manager, this is precisely what you can do. It's a free component of the larger CopyTrans Suite that provides a wider range of iPod/iPad/iPhone management functions. You have to pay for the additional functions, but the ability to manage tracks on your iPod is free. Even more impressing is that the program enables you to manage multiple devices on the same computer without undue fuss.
When you initially install CopyTrans Control Centre, this enables you to launch each of the CopyTrans utilities, which are subsequently downloaded and installed on demand. Choose CopyTrans Manager, wait for it to install and then launch it. Connect your iPod or iPhone when prompted and give it a little time to detect the contents of the device.
Once this is fully read, you can select individual tracks on the device and mark them for deletion. Select them and choose the Delete Tracks button. To add new tracks simply drag and drop from Windows or click the Add Tracks button and browse to their location. These will be shown as listed on the device but they aren't actually transferred until you click the Update button. After a short sync they'll be on your device.
You may be surprised how much quicker this process is compared to that of iTunes. If you're likely to be changing the contents of your iPod regularly, CopyTrans Manager is a better choice.
CopyTrans Manager is a free download for PCs running Windows XP or later.