Is Windows 8's app store better late than never?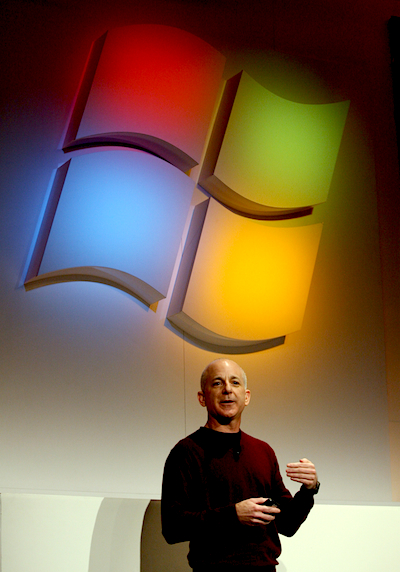 I sure hope so, but Microsoft should have done this in 2006.
Perhaps in an alternate universe Microsoft shipped Windows Vista with an app store and leveraged it to Windows Mobile. In that universe Microsoft's app store revived developer excitement about Windows; helped them to make more money (by diminishing piracy); gave businesses, consumers and developers an exciting reason to commit to Windows Mobile smartphones (with apps scaled from PC to mobile to Xbox); and made it nearly impossible for Apple to succeed in the smartphone market. Over there, Microsoft, and not Apple, is the cherished consumer brand. But, alas, we live over here.
Steven Sinofsky, Windows & Windows Live president, officially confirmed the app store off-handedly in a blog post introducing the Windows 8 team. Some reaction from the post's comments: "App Store? Microsoft, I salute you. Congratulations", writes Thomas. "For the App store, it will be awesome if the developpers and the consumers can communicate direcly together in order to improve the applications (blog,review,comment,etc..)" Sylvan writes. "In fact its one feature i think that could make Windows app store different and much better than the other app stores".
It's about time -- and too long coming. I first recommended an app store to Microsoft product managers about 7 years ago, when working as an analyst for JupiterResearch. To me, it was a no-brainer because of Windows Update and product activation. Microsoft could offer the same rights protection to its developers, a huge captive audience of users and a way to update those apps. I don't recall a whole lot of enthusiasm for the idea, which wasn't exactly rocket science.
Microsoft still could have seized the initiative by putting an app store into Windows 7. Apple showed the way with the iOS App Store in summer 2008 (Win7 shipped in autumn 2009). Instead, Apple released the Mac App Store first -- as add-on to Snow Leopard -- and later built-into Mac OS X 10.7 Lion. Microsoft already had apps and other downloadables for Xbox, so surely the concept wasn't new and certainly there must have been server farm infrastructure in place. There simply wasn't the company commitment.
Windows 8 app store is the right thing to do, particularly if apps scale from PC to tablet to smartphone to game consoles. Among the benefits:
1. Applications can be made available across multiple-sized devices.
2. Developers can scale their applications across devices, supporting Microsoft's three-screen strategy.
3. Developers can sell apps for which they will be paid; the app store would deter piracy.
4. Developers would be able to sell their apps from within Windows -- and that's better than any retail shop.
5. The store would make applications easily available to customers and more easily searched for than scouring the Web.
6. Applications could be kept up to date, automatically, which would benefit both developers and buyers.
7. If Microsoft leverages technologies like HTML5, Silverlight and even XAML, it could help developers blur the line between local applications and cloud services while enhancing Windows appeal.
That's a short list. It's about time this universe gets the app store the other one has enjoyed for so long.
My question for developers: How interested are you to develop for a Windows app store? Please answer in comments, or email joe at betanews dot com.