Nielsen: Most Android apps used sparingly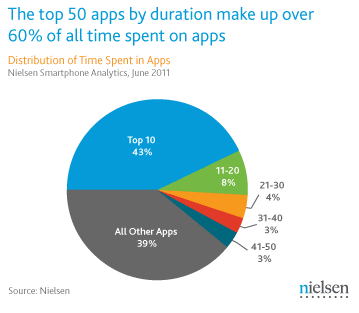 Apple and Google like to puff out their chest frequently on the number of apps in their respective app stores. But <!external href="http://blog.nielsen.com/nielsenwire/online_mobile/mobile-apps-beat-the-mobile-web-among-us-android-smartphone-users/">a new study from Nielsen suggests that may be irrelevant.
Android users spend 43 percent of their time on the top 10 apps, and 61 percent on the top 50. This means the over 249,000+ apps that make up the rest of the Android Market are fighting over that remaining 39 percent of user's short attention spans on their mobile phones.
According to a check of the Android Market as of Thursday, top apps included Facebook, Kindle, YouTube, Google Maps, Pandora, and Skype. Given these apps are quite popular off of the mobile phone, it shouldn't be too surprising that they're equally popular in their mobile form.
Users also seemingly prefer to use the app version of a service over its mobile web counterpart. Nielsen said it found Android users spending an average of 56 minutes per day interacting with web and apps on their devices.
Of that time, 67 percent of it is spent on apps, and 33 percent of the time on the mobile web.