Did HP do the wrong thing by killing off TouchPad?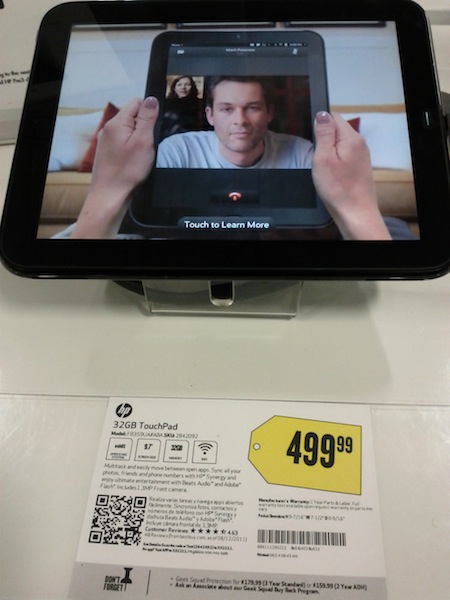 HP is taking a beating for its decision to kill off WebOS devices, including TouchPad, and shopping around its PC division, which could be spun off or sold. Shares fell nearly 23 percent -- that's about a six-year low! -- in early trading today.
Betanews readers, who are an opinionated lot, are figuratively shaking their heads in dismay, too.
In midday trading, HP shares were at $23.55, down slightly from the opening of $23.60. Yesterday HP closed at $29.51. Around this time yesterday, HP's market cap was $61.27 billion. Midday today: $48.55 billion.
Here at Betanews, there has been fractious debate about HP's plans. I'm in the minority camp seeing yesterday's stunning announcement negatively -- that it creates bad perceptions about HP management and its fairly new chief executive. HP named Leo Apotheker CEO in September 2010. TouchPad had no time to find footing in the market, and HP is No. 1 PC maker. Others here see HP smartly pruning low-margin businesses and refocusing on its core competency -- the enterprise.
Whomever is right -- and maybe none of us -- shareholders are responding negatively to the news. I had wondered if the stock might rise on news of the PC businesses' sale, which would support the pruning is good theory. Clearly not.
HP killed TouchPad just six weeks after hitting retail here in the United States. But that wasn't everywhere. "This had only been released in Australia on Monday of this week", explains Mark Rixon. "The princely total of 4 days before being taken off shelf".
Other Betanews readers express strong negative reactions. "HP I had hope in you!" reader Cool Guy exclaims. "Why are you doing this?? If you are reading this, please do not cancel WebOS and at least make it open source. WebOS has great potential".
"Geez talk about giving up! 6 weeks!" writes Betanews reader Nicholas Gerstenberger . "That's it?! Seriously?! And they JUST dropped the price of the tablet too. So what? Are they gonna give up WebOS too? Maybe somebody else should've bought palm. Sounds like they just wanted a quick way to get a tablet out, nothing more. HP needs to seriously 'invest' into WebOS if they want it to stand a helluva chance!"
Commenter Pre Post: "If Apotheker wasn't European I'd say trying to pull off inventing a WebOS tablet against iOS and Android was typical arrogant American ignorance. I was baffled all along".
"It is obvious that this new CEO did not share Mark Hurd's vision for buying Palm and the WebOS", commenter gmadrigal writes. "I just can't believe how smartphones are ditching their OS. First Nokia killing the symbian and the MeeGo. Now HP killing the WebOS. Well anyways, I just purchased a 32GB brick for $300. I hope I dont regret it, I still like the tablet and its functionality".
"I really believe that WebOS was/is a viable alternative to the staid and restricted Apple platform or that other thing -- the Google Android system", reader Stephen Green opines. "The HP tablet is miles ahead of Apple in its implementation".
Michael Beckerman sees things differently:
This move illustrates two very big mistakes on HP's part:

1. Buying Palm. Why would you buy a dying platform that was obviously on the way out and had not chance at all of standing up against it's massive competitors?

2. Launching the TouchPad.

Why would you roll out a table using an OS that no one had any interest in, when your two very well established major competitors (iOS and Android), that already had 90-percent plus of the tablet market wrapped up? Had HP not made those two huge mistakes, one right after the other, they would be a very different company today and would be in a very different position than they are today. Now, you can peel that onion back even further if you like and look at other previous major missteps on their part if you like (Compaq merger/buyout) which don't seem to be such smart decisions today, in retrospect. It seems like the list of bad decisions at HP just keeps getting longer and longer.
"WTF? The thing hasn't been on the market long enough to judge", Bill Gibson opines. "The back-to-school season isn't over and they haven't had it even been through a holiday season. I don't think it would have ultimately over taken Apple or Android, but it could be a decent 3rd place. RIM [Research in Motion] has less of a chance, IMHO, and they're still trying. At the very least, they should keep WebOS as a quick boot option for laptops".
Would you like to add to the discussion. For me the question is the debate we're having here at Betanews. Has HP given up the future -- end-to-end software, hardware and services on mobile devices -- for the post-PC era? Or is HP reaching for the future, by dumping low-margin products and divisions and refocusing on the enterprise? Please answer in comments.