Google adds voice search to Maps for Chrome Users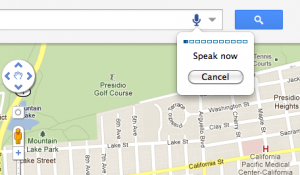 The days when we talk to our computers like something out of Star Trek are fast approaching. Google announced a new feature for users of its Google Chrome browser Thursday that will allow them to use voice on Google Maps to initiate location searches and get directions.
Google says this helps in searching for hard to spell locations, and in some cases saying where your looking for or wanting to go may be much faster than typing it.
To use the feature, users click a microphone icon that is located in the search text box to the left of the search button. You say what you're searching for and Google's voice recognition software does the rest.
Google had already turned on voice recognition for standard searches in June, and the functionality in Google Maps works the same. Here too though, non-Chrome users have been left out in the cold. The company has given no indication as to when we could expect the functionality on other platforms.
Voice search using Google Maps has been available on the company's Android smartphone platform since last year, as well as in Google's iPhone app. As Google itself has said, searching by voice on the phone seems to make sense -- after all, it is a phone.