Sony Ericsson adds monoscopic 3D to Android

Earlier this week, Sony Ericsson debuted a new Walkman smartphone powered by Android and I remarked that the joint venture is sort of keeping the feature phone concept alive by integrating key Sony trademarks into Android.
In keeping with this theme, the joint venture on Thursday announced an upcoming software upgrade to the 2011 line of Xperia smartphones will give Android an upgraded camera feature that was a banner feature of Sony's Cyber Shot line of cameras just one year ago.
Remember this commercial?
This segment, along with others showing off the new "sweep panorama" feature aired on U.S. television quite a bit. Sweep Panorama mode was first introduced with the Cyber shot DSC-HX1, DSC-TX1 and DSC-WX1 CMOS cameras in 2009 and made it into about 10 different cameras.
But because Sony hadn't debuted any consumer 3D cameras by the end of the next year, it turned this sweep panorama function into a novel way for these single-lens cameras to create three-dimensional images. The 3D Sweep Panorama upgrade would take multiple angles from the user's "sweep" motion, and use them to create a composite 3D still image that could be viewed on 3D monitors via HDMI.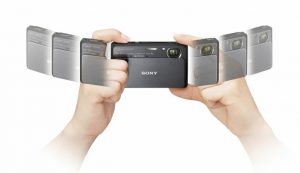 Today, Sony says it has put this feature into its Android update, and all 2011 Xperia smartphones and beyond will be equipped with it as a part of a "comprehensive software upgrade" this October.
There are currently just a small handful of 3D-equipped Android devices from HTC, LG, and Sharp; and all of them utilize stereoscopic cameras. Sony Ericsson is the first to include this type of monoscopic 3D as a pack-in feature.