Gave up Microsoft Outlook but need your PST file? There's an app for that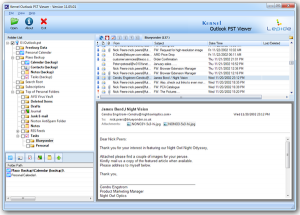 Microsoft Outlook is undoubtedly a powerful app, with its feature set going beyond that of a mere email manager to encompass contacts, calendars and other organizational tools. Everything you do in Outlook is stored in your own personal PST file, but what happens if you find yourself locked out of your PST file, or Outlook no longer recognizes the file?
In extreme cases -- say,  you ditched Outlook for another email program -- you may need to refer back to your old email messages, but without Outlook you're unable to open the PST file. What then? The solution lies in using a free tool called Kernel Outlook PST Viewer.
Fire up the app, and either load or search for your chosen PST file. Many people have just the one, others utilize multiple files. Either way, Kernel Outlook PST Viewer will allow you to access each and every one, without Outlook being present (if Outlook is present, make sure it's not running when you launch the program).
Once a file has been opened, you can browse its contents using a similar interface than that found in Outlook itself. Everything can be seen, from emails (organized into their usual folders) to contact lists and calendar entries.
What you will notice, however, is the lack of any editing or exporting tools, and that's because there are none. This is a pure viewer utility, so while you can browse the contents of your PST file you can't do anything with the content you find: that means no copying and pasting of emails or email addresses, and no previewing or exporting of file attachments.
Kernel Outlook PST Viewer is largely designed to let you peek into the contents of your PST file, with the idea you'd then explore Lepide Software's paid-for recovery products if you needed them. But if you simply want to refer back to a past email in a PST file with no access to Outlook it works a treat.
Kernel Outlook PST Viewer is a freeware download for PCs running Windows 2000 or later. It can handle PST files from any version of Outlook from 97 onwards.