Norton Internet Security 2012: Nothing radically new, but plenty to like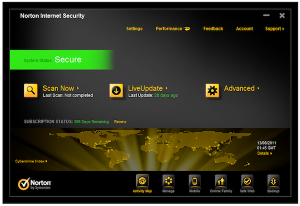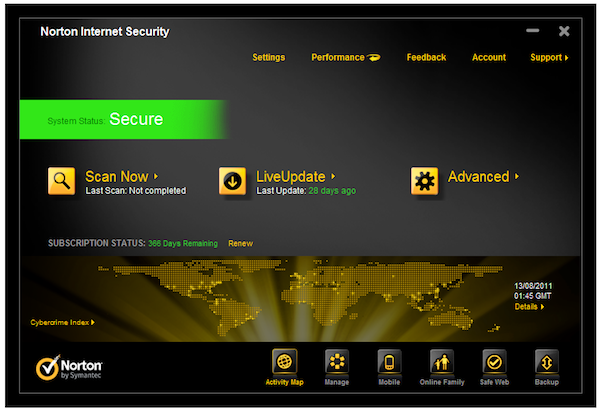 The 2012 security suite party is now well under way, and Symantec are the latest company to join in with the release of Norton Internet Security 2012. The 2011 edition was excellent, and perhaps as a result this build is more about building on that, than providing anything radically new. Still, there's plenty to like here.
Identity Safe, for instance, the browser tool for storing your logons and other information, then automatically completing web forms, can now hold your data in the cloud so it's accessible from anywhere. Symantec's reputation-based system, Insight, is now being used to check your downloads, and even try to identify brand-new malware.
Symantec's behavioural monitoring SONAR technology has also been improved to better pick up malicious programs; a new management tool allows you to remotely check the security status of computers running Internet Security 2012, apply fixes, change settings and more; and the usual interface tweaks aim to make this easier to manage than ever.
Nothing spectacular, then, but there does seem to be some useful new additions here. So we decided to take a closer look.
Getting Started
As with previous editions, Norton Internet Security 2012 installed very easily. No complex questions, no demands to remove this or that program for compatibility reasons, not even a request to reboot when it's finished: you can begin to use the program right away.
The interface has been simplified, with only the most common available from the main screen, and so we started by clicking "Scan". NIS 2012 is extremely configurable here, able to check whatever you like, and with a very flexible scanner. You can run scans daily, every few hours or days, weekly or monthly at the days you specify, and there are options to scan only when the system is idle, or, for laptops, only when the system is running on AC power
However you run it, though, the results should be excellent, with NIS 2012 cleanly removing 93 percent of our test samples. Performance wasn't quite as good as AVG Internet Security 2012 -- whole computer scans typically took 40percent  to 50 percent longer at more than 10 minutes on our test system (3 minute "quick scans" are available, though), Outlook and Firefox were a little slower to load, though boot times were similar with very little effect from installation, but the program did appear to be marginally more thorough.
There are also more false alarms at the moment, however, with NIS 2012 claiming several small utilities on our system (some NirSoft tools, for instance) were malware. This could be annoying, depending on what's on your hard drive, but hopefully these false positives will reduce over time, and right now it's fairly easy to exclude particular files from scans, if necessary.
Firewall, Antispam
When we tried the beta of NIS 2012, the firewall was something of a disappointment, prompting us for permission when even the most well-known internet programs wanted to go online.
It seems this was just a temporary beta-related issue, though, as the final version had no such problems. It correctly blocked attempted malware while allowing all our applications online, even the most obscure, without requiring any user input. It hid all our ports while online and protected us from network attacks. And if you do have a problem with how the firewall works, then in a couple of clicks you can have full control over the events it monitors (code injection, direct network access, COM control, key logger monitoring and more), although this gets highly technical and is strictly experts-only.
The spam filter was similarly impressive. It also installed and configured itself automatically, no questions or decisions involved. And its accuracy proved better than some commercial products, with the filter correctly blocking 82 percent of our test junk mails, and only misidentifying a single legitimate email as spam. (And even that was a commercial advertising message, not something we'd have missed.)
You don't get the same level of configuration options here; there's nothing equivalent to AVG Internet Security 2012′s filters for language, country, character sets and so on. But then if a filter does its job then this shouldn't really be necessary, and NIS 2012 does its job very well indeed.
Browsing
As with previous editions, NIS 2012 includes several protective security layers to keep you safe online.
The program checks links against a database of known malicious sites, for instance. It analyses pages in real time to look for elements common to phishing scams. A Facebook-specific scan checks your wall for dangerous links, and of course the core antivirus engine examines any files you download to ensure they're safe.
To test this we tried to visit 20 links sampled from recent spam emails (all received with the last 24 hours), and security sites which report on the latest dangers. But in every case NIS 2012 popped up within a fraction of a second, either reporting that it had blocked a particular exploit, or recommending that we didn't visit the page.
Better still, we saw no false alarms. Although if the program does make a mistake, the "Web Page Blocked" message does include a small "Continue to site anyway" link, so if you're sure a page is entirely safe then you'll still be able to reach it.
The other major online tool here is Identity Safe, an excellent password manager. In a click or two it's able to import your existing IE logons (or data from text files), and then will automatically log into sites or fill in forms for you. A redesigned interface makes it all a little easier to use than previous editions, and in a new touch you can now connect your details to your online Norton account, so easily syncing them with other systems.
Identity Safe has one or two small limitations. You store your details in Identity Cards, for instance, and these can only hold one credit card number (though you can create multiple Identity Cards). It's easy to use and reliable, though, and if you currently use the same, easy-to-guess password everywhere then making use of a tool like this will make your various accounts much more secure.
Other Features
Symantec's Insight technology maintains a "reputation" score for files to help it decide which can be trusted, and which really can't. Conveniently you can see the results for yourself by running a reputation scan, which lists your files and whether they're trusted, or commonly used, very handy if you think you may be infected by something and are looking for clues to identify the malware.
And the remaining major component in NIS 2012 is its Performance module, which tracks resource use on your PC, alerts you to problems, and can help to optimise your system speeds.
At its most basic, you'll notice this via occasional pop-ups warning that a particular application is using a lot of RAM, monopolizing your hard drive, or whatever the issue might be.
What's more interesting, though, is the ability to track this over time. A simple calendar shows the alerts you've had recently, so if your PC seemed slow yesterday, for instance, a single click will tell you more.
And new this time is the Startup Manager. This displays your current startup programs, and highlights their resource use so it's easy to identify any which might be slowing you down. You can disable particular programs at a click, or set some startup programs to be delayed; they'll still launch, but not immediately on boot, so your desktop may appear just a little quicker.
Install Norton Internet Security, then, and you'll get accurate antivirus, an intelligent firewall, reliable spam filter, and excellent browsing protection. As we've pointed out, there are a few minor issues -- false positives with smaller utilities, some applications taking a little longer to load - but that doesn't detract from the fact that every component here is above average, and even the extras, the Identity Safe password manager and performance module, are better than many similar stand-alone utilities. And that's why Norton Internet Security 2012 remains, for now, our pick of the security suite crop.