Steven Sinofsky is the new Steve Jobs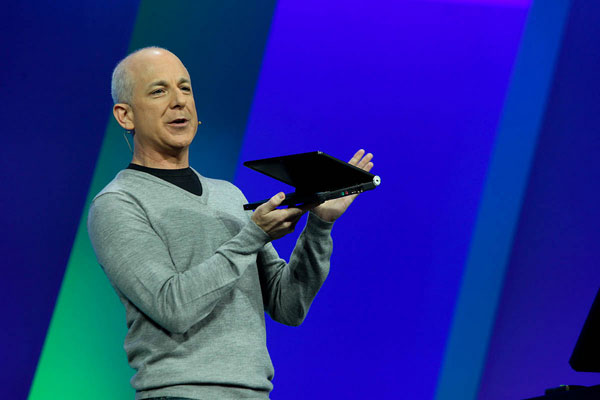 Don't laugh. I'm quite serious.
Yesterday during the Day 1 BUILD developer conference keynote, Steven Sinofsky delivered one of the most inspiring new Windows introductions ever. He was energetic and engaging. He honed in on key product benefits -- and that's tough to do with Windows because of the breadth of supporting third-party products and connection to Microsoft stuff like Windows Phone 7.5 or Live services. He spoke aspirationally and convincingly about Windows 8's benefits to developers and their customers. Apple Chairman Steve Jobs couldn't have done better. Whereas, Jobs casts the so-called "reality distortion field", Sinofsky brought reality into focus.
Jobs is gone. He no longer is Apple's CEO. Jobs won't breathe into Apple the same kind of innovation and hands-on leadership that transformed a company near bankruptcy in 1996 to become hugely dominant in 2011. The new Steve is another Steve, strangely. Sinofsky is reinventing Microsoft's core product in ways unimaginable three years ago. He calls it the "re-imaging" of Windows, which he must say to keep enterprise customers and developers from having catastrophic heart failure. But it's the reinvention of Windows.
No Microsoft executive has shown such good judgment or meaningful leadership since cofounder Bill Gates ran the company. But Sinofsky has something Gates lacked: Charisma, and that's in a way digressing from Jobs. Their keynote styles are quite different, but nevertheless compelling. More importantly, they both have shown real vision and assembled a core and loyal team of risk takers.
The parallels between the two men are quite surprising.
Unofficial leader. Jobs came back to Apple in late 1996 with the acquisition of his company NeXT. Apple bought NeXT for the operating system, but Jobs ended up running Apple as interim CEO, starting in September 1997. But he wouldn't take the title of CEO until January 2000.
Sinofsky took over running the Windows division around the time Vista shipped. He was tasked with the responsibility of getting successor Windows 7 out the door and in good shape, which he did. After the operating system released to manufacturing, Microsoft named him president of the Windows & Windows Live division -- in July 2009.
The ax-man. Jobs began his return to Apple by ending the Mac clone program and streamlining the company's product lines -- actions that received a fair bit of criticism at the time but in retrospect were quite sensible. Many people had viewed the clone program as essential to Apple's future and its ability to compete against Windows. Cancellation upset many Apple partners.
Sinofsky has streamlined Windows code and now is in process of making major cuts on the development side -- stuff quite imaginable even three years ago. .NET and Silverlight are clearly on their way out -- or for .NET taking on a diminished role. Both technologies were supposed to anchor Windows and supporting services development for the foreseeable future. No longer. The eventual end or dramatic role change of .NET will upset many Microsoft partners who have committed to the technology.
Provocateur of good taste. Jobs made his first big mark as iCEO with the introduction of the bondi blue, all-in-one, translucent-encased iMac in summer 1998. The original iMac marked a push by Apple to develop products that were as beautiful as they are functional.
As Windows 7 development started, Sinofsky assembled a team charged with refreshing the look-and-feel of the operating system and to develop natural user interface motifs. The changes were less dramatic in Windows 7, because Sinfosky's core responsibility was to get a stable product out quickly, ensure enterprise customers of backwards compatibility and restore confidence in Windows. Still, Sinofsky's team incorporated touch capabilities and refined the UI. The big changes, with focus on functionality and fluidity is Windows 8's Metro motif.
His team also worked with Acer to produce a thin-and-light laptop for PDC 2009 developer attendees. Yesterday at BUILD, developers got a Samsung slate running Windows 8 Developer Preview. Both computers are reference designs and development computers. Yesterday, he also clearly articulated a strategy of refining Windows 8 so that OEMs can produce more provocative PCs.
Platform risk taker. In March 2001, Apple released Mac OS X, about a half year before Windows XP. Jobs couldn't have picked a worse time to make a major platform transition. Windows owned the PC and developers were preparing for Microsoft's big consumer OS. Meanwhile, Apple was asking them to port their apps to a whole new architecture, and not just software -- peripheral and other hardware makers, too.
Mac OS X's launch proved disastrous, with no support for DVD drives shipping on Apple computers or many third-party devices. Major developers like Adobe and Microsoft didn't immediately update their applications. OS X really wasn't ready as a stable platform until v10.1 shipped in September 2001. Later, the platform switch proved instrumental in reviving the Mac ecosystem and being foundation for iOS that powers iPad, iPhone and iPod touch.
Sinofsky is leading Windows through a major platform transition at the worst time. Microsoft has fallen behind Apple and Google in smartphone OS market and applications share and iPad has opened up the media tablet category in a huge way, so big as to cannibalize PC sales. One analyst told me yesterday that he sees tablets sapping 20 percent or more of PC sales over the next two years. Microsoft will ask developers to commit their applications to a dramatically new user interface and Windows architecture (emphasis on native code) at a time when developing for Android and iOS is so much more appealing, because the volumes are so big.
But there's sense to the timing and where the risk can lead. By the time Windows 8 ships, the core of Microsoft's business customer base will recently have transitioned to v7. They won't be ready for Windows 8 and therefore be as threatened by architectural or user interface changes; v8 will prepare them for Windows 9. Meanwhile, Microsoft can get a leaner, meaner Windows for consumer devices. I fully expect to see ARM-base devices that run only Metro and the WinRT core announced yesterday. That's a huge divestiture from Windows legacy, but Sinofsky's way of providing a lifeline to customers and developers committed to Windows as it is while letting go the old code baggage for future PCs and mobile devices.
Keeper of secrets. Jobs is renown for keeping Apple product development hush-hush. That approach gives the company more control over how information is disseminated, which is hugely sensible from market messaging and hype generation perspectives. Apple only communicates as much as it needs to developers and other partners -- at a fault. Product design changes often catch hardware partners by surprise.
Sinofsky chose to do something surprising at BUILD: wrap it in a veil of secrecy. Attendees signed up without any knowledge of the full agenda or sessions. Microsoft disclosed no details on the BUILD website, nor in the initial packets of information given out when attendees registered. There wasn't even information on who would give the keynotes -- not that it was hard to guess. Microsoft distributed full agenda brochures concurrently with the Day 1 keynote.
Microsoft took control over the messaging this way, but without being as overly secretive as Apple. Developers are receiving loads of information, and bloggers and reporters can attend sessions (unlike Apple's developer conference). This new-found secrecy is more like standard operations at the Office group (where Sinofsky also was leader). Development information is more need to know and controlled. Sinfosky has been blogging about Windows 8, but, like Jobs, he is the one delivering the big news.
Don't be surprised if Sinofsky becomes Microsoft CEO someday.