Smart move: Bing sticks with daily deal aggregator instead of launching its own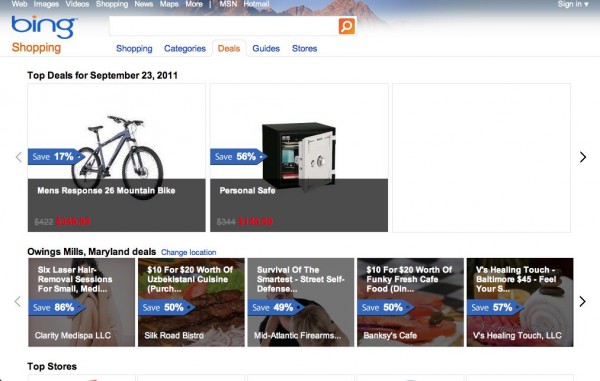 Six months ago, Microsoft's search engine Bing launched a mobile daily deals site called (what else) Bing Deals. The idea was that it wasn't a standalone Groupon or LivingSocial competitor, but rather an aggregator of other daily deal sites that partnered with the search engine. Today, Microsoft has launched the desktop version of Bing Deals, and it keeps up what began earlier this year.
Bing Deals aggregates more than 200,000 daily and local deal sites (including Groupon, LivingSocial, Tippr, and retailers like Best Buy, Nordstrom and Zappos) and lets users browse by retailer, location, keyword, or category.
The Bing team today said "Despite lots of recent news coverage about the death of daily deal sites, people still love a great deal. The number of daily deal sites may be narrowing, but there are still over 300 sites to choose from and consumer interest shows no signs of slowing down. Comscore data reveals the deals audience grew by 24 percent in the past year, and according to a recent Bing/Impulse survey, 61% of people have increased their use of daily deals in the last six months."
Still, by not setting up its own daily deal service, and instead aggregating all the competing sites, Microsoft has distanced Bing from the volatility and uncertainty surrounding daily deals.
According to venture capital database CB Insights, 72 acquisitions have occurred in the daily deal space in the last two years, and 44 of those took place just in the second and third quarter of 2011.
Google recently bought DailyDeal and The DealMap to integrate into Google Offers, CrowdSavings went on a buying spree and bought up seven smaller daily deal sites, just yesterday Rearden Commerce bought daily deal startup Homerun for $133 million.
The fierce activity in the space is the result of the extremely high valuations of the two leading daily deal sites: Groupon and LivingSocial, which were each independently valued at between ten and twenty-five billion dollars.
This "Groupon mania" appears, however, to be wearing off. CB Insights says concerns about the viability of the market, as well as macroeconomic concerns have brought down the daily deal optimism. Facebook killed its early attempt at Facebook Deals, and Yelp said it's scaling back on yelp deals.
And to top it all off, both Groupon and Livingsocial have forestalled their IPOs, the reasons for the mania in the first place.