mysql.com hacked and serving malware, stolen data sold on hacker forums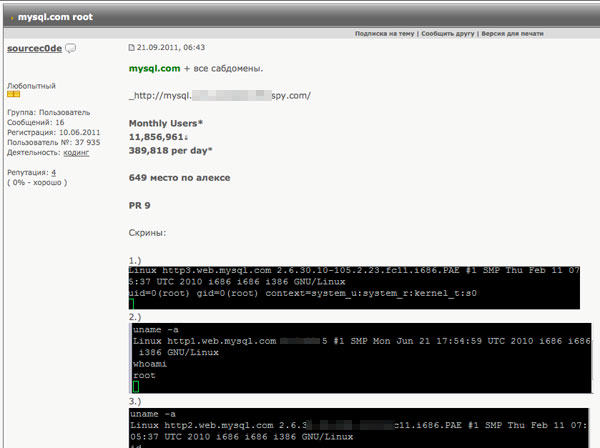 Users visiting mysql.com are being infected with malware, say security researchers. According to security firm Amorize, the hack is delivering malicious code through the use of an iFrame which in turn infects users with the Black Hole exploit.
Black Hole exploits security holes within the user's browser -- including plugins -- to find a hole through which a piece of malware can be used without the user's consent. Users would not need to agree to anything: Amorize found that simply visiting the site will lead to an infection.
The firm has tracked the two malware-serving domains to Florida and Sweden. The attacker is unknown, and as of Monday afternoon the site was still serving malware to visitors. Obviously use of mysql.com is being discouraged as a result until the all-clear is given, which had not occurred as of Monday afternoon.
"There's a lot of potential damage here and we need answers from MySQL ASAP", Kaspersky senior researcher Roel Schouwenberg told Betanews. "User credentials may be compromised. People are strongly advised to change their passwords on other sites if the same password was used for mysql.com".
Making matters worse, in its own research Trend Micro found that root access to mysql.com is being sold in Russian underground hacker forums. For $3,000 USD, hackers are being permitted to use a shell console from the seller to gain access to mysql.com's servers.
"We contacted MySQL.com about this issue last week," Trend Micro's senior threat researcher Maxim Goncharov said. "We are making this public to stress the fact that hackers do not only profit from selling stolen data or by inserting bad links into spammed or phishing messages, websites and other possible infection vectors".
Schouwenberg emphasized: "People should be extra suspicious of phishing emails. If the bad guys managed to get access to email addresses we may see 'please install this MySQL update'-type emails shortly".