Apple will announce one iPhone, not two, on Oct. 4th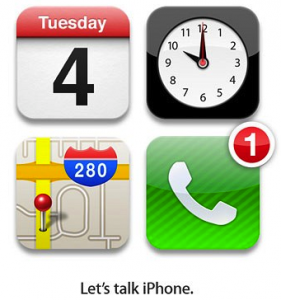 Patient (or impatient) iPhone aficionados will not have to wait much longer for that highly anticipated iPhone 5: Apple on Tuesday began mailing out invitations to journalists for an iPhone event on October 4, to be held at its headquarters in Cupertino, Calif. Apple often drops hints in the graphic elements accompanying the invites about what's coming. The not-so-cryptic message: One iPhone will be coming, contradicting weeks of rumors about two -- the other being the so-called 4S.
It's not clear why Apple chose to have its event on-campus this time versus its typical launch venue, the Yerba Buena Center for the Arts. The YBCA is showing no events for that day. In any case, Apple may be leaning towards a more intimate setting, hoping to maximize press coverage for the device by only inviting the most highly-read news outlets to the event itself.
The invitation is simply titled "Let's Talk iPhone," with an image showing the iOS icons for its calendar, showing the date of Tuesday the 4th, the clock, (showing the time of the event), the Map icon showing a pin where Apple's campus is located, and the phone icon.
If the visual clues extend to the phone icon, this may be the most important part of the whole invite. Notice that the "1" badge is on this image. For several months now, we've waffled between Apple releasing either one or two phones. In true Apple style, the company may have hidden its answer in the invitation itself. Those sneaky devils.
What is still unclear regardless of the number of phones Apple debuts next Tuesday is the release date. Using the iPhone 4 as a baseline for speculation, the announcement came on June 7, 2010, followed by preorders on June 16 (Wednesday) and in-store sales on June 24 (Thursday).
By that reckoning, presales would start October 12 and the phone would be in stores on October 21. But a more ambitious schedule would better rumors of October 15. In that scenario, Apple would begin presales on October 5 and have iPhone 5 in stores on the 13th.