Finally you can Skype video on Galaxy Tab 10.1 and XOOM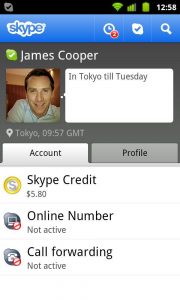 I must have been asleep at the wheel yesterday, because somehow this reporter missed the big Skype for Android upgrade. What? You missed it, too?
Well, hells bells. Version 2.5 adds video-calling support for 14 more devices -- and, finally, some big-brand tablets: Motorola XOOM and Samsung Galaxy Tab 10.1. About friggin' time!
Some of the phones are so old, support is almost laughable, like Google Nexus One. But, hey, I've still got one of those in a closet somewhere. My honey used it before she switched to the Nexus S.
Skype 2.5 brings the number of video-calling Androids to 41. Among the new ones, according to Skype:
Samsung Galaxy Tab 10.1
HTC Nexus One
HTC EVO 3D
Sony Ericsson Xperia Live with Walkman
Sony Ericsson Xperia neo V
LG Optimus Black
LG Optimus 3D
LG Optimus 2x
Motorola Photon
Motorola Droid 3
Motorola Bionic
Motorola Xoom
Motorola Atrix
Acer Iconia
"The Skype 2.5 for Android update also brings you further video enhancements," Dan Chastney, Skype senior product manager, writes in a blog post. "You can now switch between portrait and landscape mode during video calls, and zoom in with a simple double tap on the screen".
He adds: "We also improved support for bluetooth headsets and included a number of bug fixes and performance enhancements, which should further boost the user experience of Skype for Android on your phone".
Yesterday, Skype also updated for iOS, bringing to both platforms something many users may not want: Advertising. "There will be an advertising platform introduced in this new release", Chastney explains. "Advertising will not be shown to users that have Skype Credit, a Calling or Skype Premium subscription".
Finally, my long-languishing $1.35 credit has purpose.