Samsung unveils all new components for next-gen phones and tablets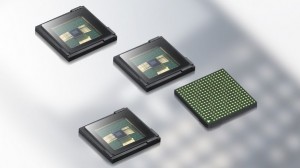 At Samsung's Mobile Solutions Forum 2011 in Taiwan, the South Korean consumer electronics leader revealed some major new components that it will use in its next generation of smartphones and mobile tablets: a new dual-core applications processor, and a new 16 Megapixel CMOS sensor and new forward-facing camera sensor, a new 64 GB flash memory module. and a new 4 Gigabit low power DDR3 DRAM memory unit.
These components find their way into all types of mobile devices, and not just those with the Samsung brand stamped on them; so here is what will be going into new devices next year...
The Processor
The Exynos 4212 is a dual-core ARM Cortex A9 application processor made with 32nm process technology. Samsung has increased the power by 25% over the previous generation Exynos, which was a 1GHz 45nm SoC. Samsung also says it is capable of rendering 50% higher resolution 3D graphics over the previous version.
The Cameras
The new CMOS sensor is called the S5K2P1, and it supports a maximum 16 megapixel image resolution and native 16:9 video at up to 8.3 megapixel resolution at 60 frames per second.
The forward-facing camera unit is a 1.2-Megapixel (Mp), 1/8.2-inch CMOS image sensor (CIS) system-on-chip (SoC) called the S5K8AA. Made to be as tiny as possible, the unit can fit into a 5.5 x 5.5mm camera module with profile of only 2.8mm.
The Storage
Samsung's flash memory unit for smartphones and tablets measures only 1.4 millimeters in thickness, has a 64GB storage limit, and uses 64-gigabit NAND with a toggle DDR 2.0 interface. Samsung says the memory unit can perform sequential read speeds at 80 MB per second and sequential write speeds at 40 MB per second. Last year, its memory units were based on 30nm 32Gb NAND flash components, but this batch uses 20nm 64Gb NAND flash, which should provide bettter than 60% improvement in read/write speed.
The Memory
The new memory unit is 500MB, 4 gigabit low-power DDR3 that uses 30nm technology. This can transfer data at up to 1,600 megabits per second, and if two units are stacked on top of one another for 1GB, it is capabale of data transmission rates up to 12.8 gigabytes per second. Samsung said four of these units can be stacked for 2GB of RAM, a level of RAM we should begin seeing in devices early next year.
All of these products will be sampling to manufacturers in the coming weeks for placement in devices in the second half of 2012 and beyond.
Photo Credit: Samsung