Why was Samsung Mobile Unpacked cancelled?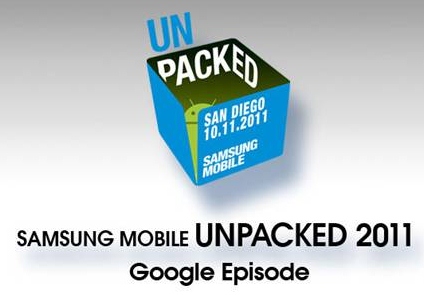 Sharpen your conspiracy theories, Batman. Google and Samsung have cancelled the October 11 event that promised something really special and sent many gadget geeks into near convulsive states of anticipation for the Nexus Prime (or whatever it's called) and Ice Cream Sandwich. The question everyone should ask is "Why?"
Samsung has fanned the rumor fires with the original invite and clever video that promised not just a new smartphone but tablet, too. Given that Ice Cream Sandwich brings together Android 2.x for phones and 3.x for tablets, the tease is almost overwhelming. Surely there is mass disappointment -- it's a wicked day to be a gadget geek if iPhone 4S preordering wasn't on plan.
I got this statement from Samsung today:
Samsung and Google have decided to postpone the Samsung Mobile Unpacked event during the CTIA in San Diego, previously scheduled for Oct. 11. Under the current circumstances, both parties have agreed that this is not the appropriate time for the announcement of a new product. We would ask for the understanding of our clients and media for any inconvenience caused. We will announce a new date and venue in due course.
The event was an unusual opportunity for me. Google and Samsung planned to hold the "Unpacked" during CTIA Enterprise And Applications Mobile Business, which starts here in San Diego on October 11. I was going to the show anyway, but that first-day bang won't be.
So what's up? I dunno but will speculate and encourage you to do same in comments, where you also can share your disappointment. It's support group Friday here at Betanews!
Okay, some possible reasons:
1. Something has gone terribly wrong with the hardware or software, forcing a delay. It would have to be huge for Google and Samsung to pull out after all the buildup.
2. There is some problem with the venue, perhaps some issue with CTIA and location of the event. In the latter case, there might not have been enough RSVPs to guarantee satisfactory press coverage.
3. iPhone 4S preorders started today and the handset is in stores in one week. Perhaps Google and Samsung decided they could generate more buzz, blogs and news stories if the event was later. That said, rumors about the iPhone 4S have circulated for weeks.
4. Steve Jobs died this week. Maybe the parties decided that their launch plans and marketing material might come off as disrespectful. Given how much Jobs is identified with Apple -- and increasingly with all the blogs and news stories this week -- Google and Samsung chose to wait. Better: They simply want to show their respect.
5. There's a critical court hearing on October 13, where a California judge could issue a preliminary injunction -- asked by Apple -- against four Samsung devices. Perhaps Google or Samsung lawyers thought it unwise to flaunt the next, new thing two days earlier.
After I posted I got an updated statement, which added: "We believe this is not the right time to announce a new product as the world expresses tribute to Steve Jobs's passing". So No. 4 is officially it, although I wouldn't discount the last one, either.
Is this a classy move on the part of Google and Samsung, or a cheap PR stunt? Are you disappointed by the delay? Please answer in comments.