Symantec posts Norton 360 v6 beta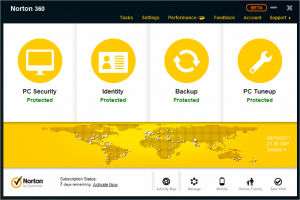 Symantec has revealed the first public beta of Norton 360 6.0, the company's do-everything security suite.
The Norton site claim this build offers "our best protection and performance ever" and "improved local or secure online backups". If you're familiar with the package you'll see it's also had a few interface tweaks, but there are no other specifics regarding new features available just yet.
Despite the suite's beta status, all the other standard Norton 360 features appear to be present and correct: a strong and configurable antivirus engine; an intelligent firewall; a capable spam filter; quality password management; identity protection, local and online backup, PC optimization tools and more.
And while betas tend to use more system resources than the finished product, this one is already more lightweight than some of the competition, consuming around 100MB of RAM when scanning and only around 16MB when idle.
Of course it is still a very early version and is sure to contain bugs, so you shouldn't install the beta on anything that isn't fully backed up. But if that's not a problem, then the Norton 360 6.0 beta is available for download now.