Adobe Reader finally comes to iPad, iPhone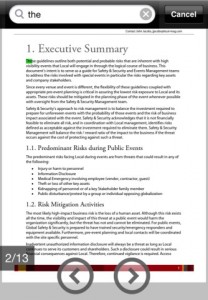 While iOS has supported Portable Document Format for some time, there has been no official app from the king of the PDF, Adobe. With the release of Adobe Reader for iPhone and iPad, this has now changed. As you would expect, the app provides support for the opening of PDF files that have been created on other platform, including those that have been password-protected, and PDF portfolios.
Lengthy files can be easily navigated using bookmarks and text searching, and a thumbnail preview section at the bottom of the app makes it easy to jump to a specific page without having to scroll through a document in its entirety. It's good to see that the iPhone and iPad versions of the app are, apart from the differences in screen size, indistinguishable from each other.
Support for comments and annotations means that  by viewinging a PDF on a mobile device  you are not missing out. You can choose between working through your documents in single page mode, or opt to use continuous scrolling mode instead for uninterrupted reading.
The ease with which files can be shared means that security is now of the utmost importance, and anyone creating sensitive PDFs will be pleased to find that there is support for 256 AES encryption and password protection. When it comes to working with your files, PDF can be printed out using AirPrint or shared with others by emailing from within the app.
You can find out more and download a free copy of the app by paying a visit to the Adobe Reader for iOS review page.