First an outage, now a lawsuit: US, Canadian Blackberry users want compensation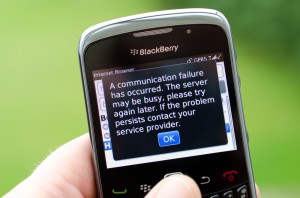 Research in Motion will now need to fight off class action suits in both the United States and Canada, following a four-day outage earlier this month which started overseas but quickly spread worldwide. The outage left some without email, web browsing, and instant messaging for several days.
RIM apologized for the issues and offered free apps and enterprise tech support for its customers' troubles, but that was not enough. The US effort was filed on Wednesday in the US District Court for the Central District of California in Santa Ana, and the Canadian suit in the Quebec Superior Court. Both efforts seek class-action status.
Sherman Oaks, Calif. resident and BlackBerry user Eric Mitchell brought the US complaint. In it, his lawyers accuse RIM of breach of contract, negligence and unjust enrichment. While Mitchell did not pay RIM directly for service, he paid for BlackBerry services through his Sprint wireless contract.
The suit says that the plaintiffs were unsatisfied by RIM's efforts to placate affected users, and that the company did not take full responsibility for the outages. It says that RIM earns about $3.4 million a day in providing these services, and that the plaintiffs should be compensated for services they did not receive.
Along with seeking class-action status, the suit seeks damages including cash compensation for the service outage as well as payment of all associated court costs.
If the US suit becomes a class action its size could be 2.4 million in the state of California alone. That said, class-action efforts have failed before simply because the class would be too big -- most recently a sexual discrimination suit against Wal-Mart that went all the way to the Supreme Court.
There, the class would have been about 1.4 million. Here, it could easily run into the tens of millions, and depending on what compensation the plaintiffs are seeking, the monetary cost into the hundreds of millions.
RIM could not immediately be reached for comment.
Photo Credit: sgm/Shutterstock