Is PlayBook 3-for-2 deal cheap enough?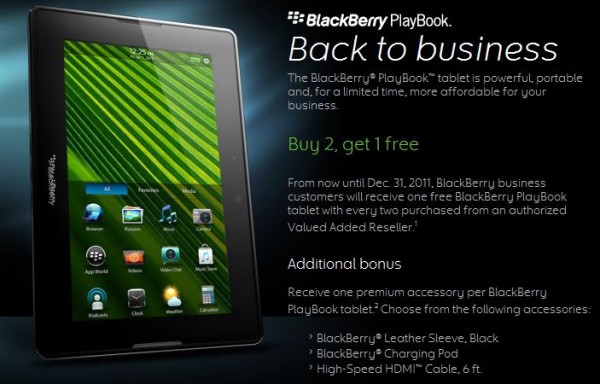 Research in Motion is using a little clothing retailer incentive to motivate businesses to buy BlackBerry PlayBook. But if you don't want any, would you buy three? For a limited time, RIM and its retail partners are offering a buy 2-get-1-free special. If that's not enough incentive, they're throwing in free accessories, too, like leather sleeve and HDMI cable. The deal is available through December 31.
RIM sold 500,000 PlayBooks during the launch quarter but only 200,000 the one following. It's safe to assume there's lots of inventory in the channel, and a deal like this is one way to clear the stock rooms. But how good is it really, and is it enough to push you to PlayBook? The latter question is for you to answer in comments. I've got the first here.
For starters, RIM is heavily relying on its dealer channel. The deal website offers contact info for sites like CDW and PC Connection -- that's to direct sales people. Sorry, you can't rush over to Amazon. Businesses must either go through their existing account reps at these dealers or through the designated point of contact. The PlayBook deal is also available through value-added resellers.
I contacted CDW, and got an email box closed message. There's no email response yet from PC Connection or PC Mall. The question: What starting price -- and if high enough is there a real deal here? For example, CDW's website lists the 16GB PlayBook for $499.99. Assuming that's the price for the deal, too, then the cost for three PlayBooks is $999.98 before tax, plus buyers get one accessory per tablet.
By comparison, PC Connection sells the 16GB PlayBook for $299. If you really want three, the price then is $100 less, but that's without free accessories. What if PC Connection's business price is higher? Then it might be cheaper to buy from the website instead of through a designated sales person.
"Are they selling PlayBooks at $999 for three?" Stephen Baker, NPD's vice president of industry analysis. "If so that is just the retail equivalent of $299. Business channels would rather have the total dollars and drive higher spending so 3 for 2 works nicely for them (plus their customers often need more than one, whereas retail channels want the lower absolute price point so as to not scare consumers away".
But what if in the case of PC Connection it's $598 for three -- meaning the current website price is same for the 3-for-2 deal? That's the question I'm waiting for the online dealer to answer. I'll update when I get it. What price would move you to buy PlayBook -- if at all?