Verizon aims at AT&T, doubles LTE data caps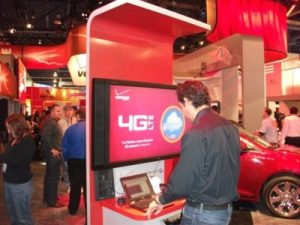 Verizon Wireless wants its customers to upgrade their phones and take advantage of the carrier's next-generation LTE network, and is sweetening the data pot to get them to do so. Beginning Tuesday, Verizon will double the data allotments for customers for the same price as its traditional data plans.
The $30 2GB plan is now 4GB, the $50 5GB plan will have 10GB allotment, and the $80 10GB plan a cap of 20GB. A Verizon spokesperson confirmed the offering, first reported by CNET, saying it will last "through the holidays", but declining to offer specifics.
Motorola will launch the Droid RAZR on Friday, which includes LTE data. Despite its gimmicky launch date -- 11/11/11 at 11:11am -- Verizon may hope the new LTE data caps give the launch an extra boost. While not unlimited, the carrier is still offering data plans that are highly competitive in the market for the price.
New customers can sign up for the plans when purchasing a LTE device. Current LTE-capable device owners must request new data caps via customer service or My Verizon.
Verizon's move is obviously aimed at attracting consumers away from AT&T's LTE network. The nation's second biggest wireless provider announced its first LTE phones -- the HTC Vivid and Samsung Galaxy S II -- last week. The data plan caps are the same as its 3G offerings, however.
Photo Credit: Verizon