Will you buy AT&T LTE phones -- HTC Vivid or Samsung Galaxy S II Skyrocket?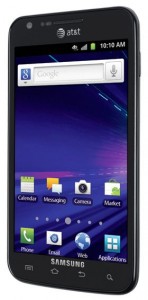 I'm feeling kind of cranky today and having bad flashbacks to the 1990s, when the honking PC bought one day seemed oh-so last year weeks later. On October 2, I bought the Galaxy S II from AT&T. Problem: On November 6, the carrier will launch its first two LTE phones -- and service in four new markets -- the HTC Vivid and Samsung Galaxy S II Skyrocket. I so want the Skyrocket. It's an investment for the future, because of LTE. But AT&T probably won't let me have it, because the new S2 releases a couple days outside the 30-day return period for the older model. Not hopeful, I will nevertheless try.
What about you? Would you buy either phone, and would the main reason be LTE -- that is, if an AT&T subscriber? Verizon's LTE rollout already is farther along and reaches many more people, and the carrier offers six LTE phones (seven with the forthcoming Droid Razr) and two tablets. Have you bought a Verizon LTE phone, with faster data being a reason? Please answer in comments below.
We've had some fiercely contentious discussions here at BetaNews about the value of LTE, and whether it really matters to many phone users. I'm in the "hell, yes, it does" camp. Verizon surely thinks so, given its network expansion -- $65 billion, including $9.6 billion for spectrum purchased in 2008 -- overall, including LTE. But there's division here in the newsroom about how many people really choose a phone or carrier because of LTE.
According to a report In-Stat released last week, 75 percent of survey respondents listed 4G as one of the features they'd like in their "ideal phone". It's my experience that what people say they want on a survey but actually take differs dramatically. Factors like affordability often matter more.
A few days before Apple announced iPhone 4S, when everyone thought it would be something else, I asked: "What if iPhone 5 isn't LTE?" Reader Lori Johnson responded: "It needs to be LTE!!!!" Commenter James: "Why buy a new phone that only supports old 3G and runs slower in major markets".
That's exactly my quandary today. Had I known AT&T would release a Galaxy S II LTE model 36 days after the HSPA+ model, I would have waited. I've been here before, on PCs, when faster microprocessors, modems and USB came along. In the so-called post-PC era, better mobiles come out quickly, like personal computers in the 1990s. At least I could upgrade the PC, and there was no long-term monthly payment commitment. So it makes sense to me, if committing to a two-year cellular and data contract, to get LTE -- invest in the future. But fast data matters to me. Does it to you?
Then there's the "What's fast enough?" question. WiFi is widely available in coffee shops and even McDonald's, and that's free data. Both Galaxy S II models support HSPA+, with theoretical data maximum of 21Mbps (iPhone 4S is only 14Mbps). That's plenty fast and pitched as 4G, too. Skyrocket adds LTE, which, in theory, delivers up to 70Mbps.
"Although 4G is an important feature for handset buyers, there is a lot of confusion surrounding 4G", says In-Stat analyst Greg Potter. "When survey respondents were asked which carrier offered the fastest 4G speeds, the majority of the respondents either didn't know or felt they were the same across carriers".
Perhaps I'm the confused one. Since all this speed is theoretical, does any of it really matter? And what's really fast enough? Here in the San Diego area, I frequently got over 6Mbps on T-Mobile with Google-branded, Samsung-manufactured Nexus S. I've yet to reach that speed on AT&T's network with Galaxy S II, which theoretical maximum is three times greater than Nexus S.
Additionally, LTE isn't available in my area. On Sunday, AT&T will add LTE service in Athens, Ga., Baltimore, Boston and Washington, DC, which will join Atlanta, Chicago, Dallas-Fort Worth, Houston and San Antonio. San Diego may not get LTE service for some time. But I'm thinking that either I or someone else in the family will still be using this phone when it does -- after all there is a two-year contract.
Then there is the phone, which features impress -- and same applies to HTC Vivid. Quick specs:
HTC Vivid: 1.2GHz Qualcomm APQ 8060 dual-core processor; 4.5-inch qHD
super LCD display with 960 x 540 resolution; capacitive touchscreen; LTE/HSPA+/UMTS/GSM/GPRS/EDGE; 1GB RAM; 16GB storage (expandable to 32GB with microSD card; 8-megapixel camera; 1080p video capture; Bluetooth 3.0; WiFi "N"; 1620mAh battery and Android 2.3.4. Dimensions: 5.07" x 2.64" x .44". Price with two-year contract: $199.99.
Samsung Galaxy S II Skyrocket: 1.5GHz dual-core processor; 4.5 Super AMOLED Plus display with 800 x 480 resolution; capacitive touchscreen; LTE/HSPA+/UMTS/GSM/GPRS/EDGE; 1GB RAM; 16GB storage (expandable to 32GB with microSD card; 8-megapixel camera; 1080p video capture; Bluetooth; WiFi "N"; Near-Field Communications (NFC); 1850mAh battery and Android 2.3.5. Dimensions: 5.15" x 2.75" x 0.37". Price with two-year contract: $249.99.
So, would you buy? Or have you got another LTE phone on another carrier? Please respond on comments.