Want an Apple but can only afford a Dell?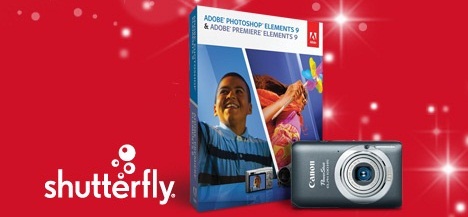 I rarely post about vendor deals, but Dell sent promotional email today that caught my attention. Spend $649 on a Dell PC and get a Canon ELPH 100HS digicam, Adobe Elements 9, Premiere Elements 9 and Shutterfly photo book free. The goodies only come with select systems, and Dell is promoting this as a "Holiday Photo Solution".
I'm a sucker for good marketing, and the email subject line -- "Our Gift to You" -- caught my attention. That would be a good subject for phishing mail, too, but I saw that it was from Dell and previewed without images. (Tip: Turn off automatic image loading in email; this helps prevent spam containing "web beacons" -- hidden, clear images -- from identifying a valid address.) There's value here. The ELPH 100HS retails for $179.99 (137.99 from Amazon). The Adobe Elements software, as a bundle, is $79.49 from Amazon. Dell values the Shutterfly photo book at 30 bucks. It's a pretty good pre-holiday deal, that is assuming you want to buy a Dell.
Maybe you're thinking Apple, since the company's products are suddenly so popular and it's now the No. 3 PC manufacturer in the United States, according to Gartner and IDC. Then there's Apple's iLife for photos and videos, which comes free. In some ways, Dell's deal is its answer to people wanting Apple but budgets won't allow it. The cheapest complete Mac is the $999 Air, and you'll get no free camera with that. Dell will gladly take more moolah, but you only have to spend $649. Perhaps that shiny, new Mac looks prettier, but the Dell is brawnier for the buck.
The world's No. 2 PC manufacturer won't give you the extras on just any system. You must select from one of five at the Dell Holiday Gifts site. I'm a cheapskate and started with the lowest-priced system -- $699.99 Inspiron 15R-Second Gen (not an exactly inspired name, but descriptive enough). The system is discounted by $118 to get the price, Dell claims. If you want a bulky laptop (15.6 inch display, 5.84 pounds), the value isn't just in the extras.
Base configuration (which buyers can change, and, of course, doing so spend more money): 2.2GHz second-gen Intel Core i3-2330M processor; 15.6-inch LED display with 1280 x 720 resolution; 6GB DDR3 memory (1333MHz); Intel HD Graphics 3000 (max 1.6GB dynamic video memory); 640GB 5400-rpm Serial ATA hard drive; DVD burner; WiFi N; Bluetooth; 1-megapixel webcam; and Windows 7 Home Premium 64-bit. For $200 more, an alternative base configuration bumps the processor to a 2.4GHz Core i5; memory to 8GB, graphics to a 512MB AMD Radeon HD 6470M, hard drive to 750GB and optical drive to Blu-ray.
Dell sure knows how to make you not want Microsoft Office Starter: "Reduced-functionality Word & Excel w/ ads. No PowerPoint or Outlook". Oh yeah, don't you just want that?
I'm fussy about screen resolution and wouldn't want 720p on a display so large. But that's me. Adobe already offers Elements 10 for both its consumer and video products, diminishing the appeal somewhat for v9. But, free is free, and it's not like v10 is greatly changed over its predecessor. (By the way, I configured a system for reporting purposes; I didn't buy one.)
The promotion is timely, with Dell jumping ahead of the holiday rush. The message: Why wait for Christmas when you can buy now and capture those holiday memories with a new PC and free digicam and software. The offer is good while supplies last or until 1/31/11. LOL. Don't you just love typos. Surely Dell means 1/31/12.
My question: If Dell offers so much now, what can you get waiting until Black Friday?