Tout brings 'email-as-a-service' to individuals and small businesses

The folks at angel-backed startup Tout know that e-mail has still got a long future ahead of it, so they're trying to improve it by equipping individuals and small businesses with the powerful template-based messaging capabilities big enterprise would pay lots of money to get.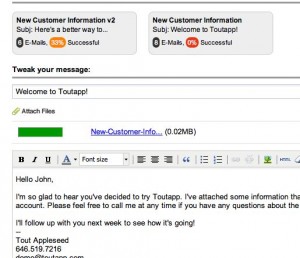 It's an "email-as-a-service" product not unlike Amazon Simple Email Service (SES.)
Users can access their email accounts through Tout's web interface to compose and send messages. It's not designed for informal personal communications, but instead for efficient, targeted business communications, so Tout lets users create and save templates of messages and organize them into categories (broadly analogous to campaigns.)
Once sent, users can track the status of their messages and gauge the effectiveness of their emails by seeing if messages were received, viewed, and clicked through. Tout tells users which links were clicked, what time and date they were clicked, and how many times each link was clicked.
In this way, it helps users isolate their most effective email marketing and communications.
Based upon this open/clickthrough information, users are given analytics for each of their email categories, showing the overall success of each. This data can be shared with team members if team templates are being used, and the data can be tied into CRM systems such as Highrise, Batchbook, and Capsule CRM.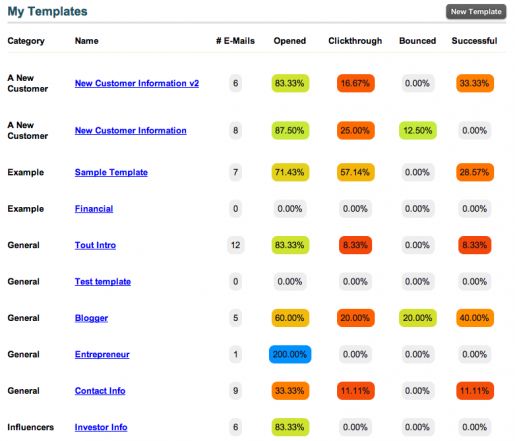 Tout has 5 main subscription tiers: free, premium, small team, medium team, and large team, and also establishes SLA's with bigger enterprises.
Free users can send 25 emails a day, save 10 email templates, and make 3 Tout Groups. The first pay tier, "Premium," costs $30 per month, and bumps gives users a 100 email per day quota, and lets them save an unlimited number of templates and groups.
The Small Team tier bumps up the price to $49 per month for 3 team members, shared templates and team-wide analytics. The $99 per month Medium Team tier increases that to 10 members, and the Large Team tier includes 25 team members.