MediaMonkey 4 now supports video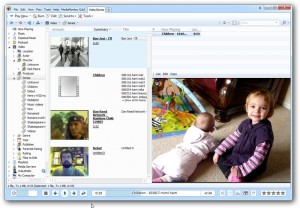 Ventis Media has overhauled its music management tool to add full support for video. MediaMonkey 4.0, available in free and Gold editions, allows Windows users to manage and organize their media collection with a set of powerful tools.
Version 4.0 also adds support for library sharing to and from UPnP/DLNA devices, improves automatic synchronization capabilities with Android mobiles and introduces a new portable installation option, allowing MediaMonkey to be run from USB drives.
The standout feature in MediaMonkey 4.0 is the fact it now supports video as well as music -- the media manager currently supports AVI, MP4 and WMV videos only, with support for MKV promised at a later date. Video support is exactly the same as music support, allowing the user to quickly play, sync, tag and update video art and metadata over the Internet.
As with music files, video files will also be capable of being quickly renamed and organized according to their metadata, and there are video-conversion capabilities too. Additionally, video libraries can be segmented into separate collections, allowing the user to organize video into various categories such as recorded TV, movies and home video.
Version 4.0 also adds support for library sharing with UPnP/DLNA devices such as xBox, PS3 or compatible televisions and media streaming boxes. Automatic sync support allows you to sync with a wide range of compatible devices via profiles, which can be fine-tuned as required.
Other changes in version 4.0 include a new "secure ripping" system, that aims to improve CD ripping accuracy by slowing down the disc's rotational speed whenever inaccuracies have been detected. The software also reportedly improves audio quality via the Windows Session Audio API.
The app's user interface has also been tweaked to make it simpler to use, with a number of improvements that start with a setup wizard after installation and include a new tabbed interface and integrated file monitoring features. Version 4.0 also includes a wide number of bug fixes that resolve a number of issues.
MediaMonkey 4.0 is available now as a free download for PCs running Windows XP or later. A Gold license, which includes a number of additional features and performance improvements, is also available, with prices starting from $24.95. The upgrade can be performed within the Free edition of the software.