A 40" AMD-powered touchscreen device from Samsung? Must be Surface 2.0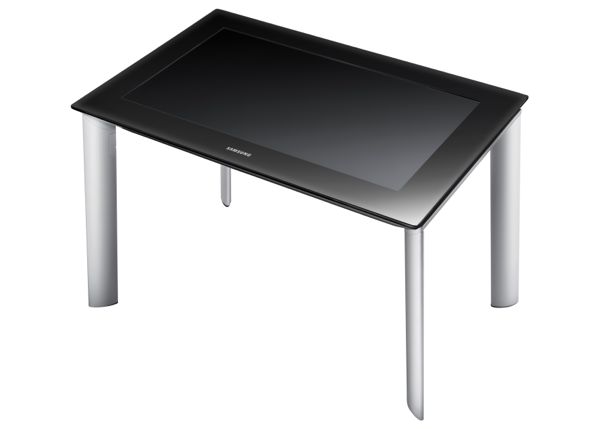 Microsoft Surface, the touch interface for interactive advertisements and signage was given a massive technology overhaul and revealed at CES 2011. Instead of a huge, foot-thick table that utilized cameras to detect user touches, it shrunk down to just 4" in thickness, using "pixel sense" touch detection for 50 simultaneous points of contact.
Today, nearly a year after Surface 2.0 was revealed, Samsung's next generation Microsoft Surface device is finally up for sale.
Known as SUR40, the updated Surface "table" is now available for pre-order in 23 countries worldwide. The target industries are retail, hospitality, education, financial, healthcare, and manufacturing.
Pixel Sense is definitely the selling point of this device. It not only allows for 5 people to simultaneously use full-hand gestures, but the technology even lets the screen "read" printed text that is placed face down onto it. It's like a touchscreen that could also be used as a scanner.
SUR40 is a 40" touchscreen computer with a resolution of 1920 x 1080 powered by an AMD Athlon X2 Dual Core 245e clocked at 2.9GHz with 4GB of DDR3 RAM. Graphics are driven by an AMD HD6750M graphics processor, and there is a 320GB SATA2 HDD. The hardware weighs 39.5 kg (87 lbs) combined.
Naturally, the whole thing is driven by Windows 7 Professional (64-bit) and Microsoft is still looking for software developers. Microsoft's Surface Developer Center offers a Surface 2.0 software developer kit for free. It features "Input Simulator," which lets developers write Surface applications on any Windows 7 machine.