New Skype betas add Facebook video chat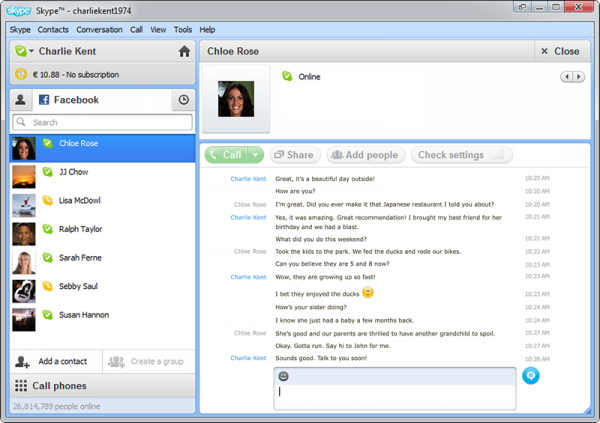 Skype's integration with Facebook is nothing new, but the latest beta version of the cross-platform chat and VoIP tool takes this to a new level. Skype for Windows 5.7 Beta and Skype for Mac 5.4 Beta bring further advantages to connecting your Facebook account with your Skype one. Now, as well as being able to make use of Facebook chat from within the app, it is now also possible to conduct Facebook video chats.
This can all be carried out from within Skype itself without the need to visit the Facebook web site -- just as it has been possible to conduct text-based chats with your Facebook contacts, the same is now possible with face-to-face VoIP calls. Improvements have been made to Skype's video rendering, which helps to give a smoother overall experience, and there are a number of other new features to explore.
Another improvement in the Facebook arena is better handling of online status. Now, if you indicate that you are away in Skype, this fact will be relayed to not only your Skype contacts, but you're your Facebook friends. Sticking with the video chat side of things, you now have the ability to share your screen when conducting a group chat.
This means that in addition to sharing your webcam footage, you can choose to share the content of your entire desktop, or just the contents of a single application window -- a great option for remote meetings. Skype is used in a huge number of different ways, and a new push-to-talk feature opens up even further possibilities -- of course, there will be occasions when you want to appear offline in Skype but remain online on Facebook, and this is also possible.
You can find out more and download a free copy of the beta software by paying a visit to theSkype for Windows 5.7 Beta or Skype for Mac 5.4 Beta review page.