Can 'Buffy' slay Facebook Phone rumors?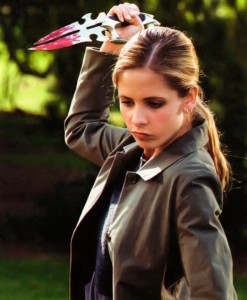 Rumors persist over the mythical "Facebook Phone". This time it's Ina Fried and Liz Gannes of All Things Digital, claiming sources say the social network is working with HTC on an Android powered device -- codenamed "Buffy" -- to launch in about 12 to 18 months. It deeply integrates Facebook services into the experience, and relies on HTML5 as a platform for applications.
But Fried's and Gannes' report may not be accurate. In a "He Said, She Said" response, Inside Facebook followed up saying its own sources call Buffy a "trainwreck". Reporter Kim-Mai Cutler says that the phone would have a host of issues, including always being one step behind the latest version of Android due to the deep customization that Buffy would require.
Mobile is key to Facebook's business: data shows that increasing numbers of social networking users access there accounts while mobile. A recent study from comScore shows that in August of this year some 72 million users accessed social networking sites or blogs on their phones, an increase of 37 percent year over year.
"This behavior is even more prevalent among smartphone owners with three in five accessing social media each month, highlighting the importance of apps and the enhanced functionality of smartphones to social media usage on mobile devices", comScore senior vice president for mobile Mark Donovan said at the time.
The AllThingsD bloggers claim HTC won out over Samsung, which was also considered as a possible partner, to build Buffy. HTC as manufacturer isn't surprising. The Taiwanese smartphone maker announced the Status back in June, one of the first devices to come with a dedicated Facebook button and integrated functionality. AT&T offers the phone free with a two-year service contract.
Cutler debunks this scenario, observing that 12 to 18 months would put the Facebook phone two-and-a-half years behind laggard Windows Phone 7. The only reason Facebook has stayed on the project is because "they don't know what to do", claims one of Inside Facebook's sources. More: "Buffy 'was an interesting story six months ago', says the source. 'But it isn't anymore'".
Other jounralists are sniping at Fried's and Gannes' reporting. MG Seigler took issue with the fact that the story made no reference to a piece by TechCrunch posted a year earlier, and a post he wrote in September on Facebook's continuing denials that the device exists.
"Facebook [is] playing a bullshit game of semantics. And I'm sure that will continue right up until the day they release the phone, at which point it won't matter anymore", he writes to his personal blog. "So no, there's no Facebook Phone. Until a year from now when there is one. Consider it fait accompli".