Microsoft states the obvious about Kinect for Windows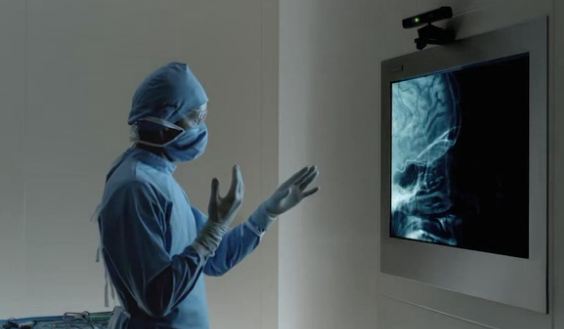 There's going to be a controller. Enough people inquired about the obvious that Craig Eisler, Kinect for Windows general manager, felt obliged to answer.
"We've been asked whether there will also be new Kinect hardware especially for Windows", he blogs today. "The answer is yes; building on the existing Kinect for Xbox 360 device, we have optimized certain hardware components and made firmware adjustments which better enable PC-centric scenarios".
Like, why wouldn't there be Kinect hardware for Windows?
"Simple changes include shortening the USB cable to ensure reliability across a broad range of computers and the inclusion of a small dongle to improve coexistence with other USB peripherals", he writes. Wow. I'm simply quaking at the keyboard.
"Of particular interest to developers will be the new firmware which enables the depth camera to see objects as close as 50 centimeters in front of the device without losing accuracy or precision, with graceful degradation down to 40 centimeters", he continues. Oh? Do tell more.
"'Near Mode' will enable a whole new class of 'close up' applications, beyond the living room scenarios for Kinect for Xbox 360", Eisler explains. "This is one of the most requested features from the many developers and companies participating in our Kinect for Windows pilot program and folks commenting on our forums, and we're pleased to deliver this, and more, at launch".
Microsoft released the Kinect SDK for Windows beta in June. Commercial availability is expected in early 2012. Shall we guess Consumer Electronics Show in January? That's what I expect. Timing and venue are appropriate.
Meanwhile Eisler will be busy with another project: "The Kinect Accelerator". According to Microsoft:
Through this program, Microsoft is supporting entrepreneurs, engineers and innovators like you to bring to life a wide range of business ideas that leverage the limitless possibilities Kinect enables. Following a competitive screening process, ten finalists will be chosen for this unique three month incubation program running from March to May, 2012 in Seattle, WA.
Accelerator resonates with Microsoft's recently debuted "Kinect Affect" marketing campaign promoting the natural user interface technology outside of gaming, particularly for business purposes.
It's preparation for the big Kinect for Windows push that could dramatically change how businesses and individuals interact with their computers. No one should underestimate just how Kinect could revitalize the Windows PC's importance -- transforming it from that box people take for granted into something quite wondrous. You don't believe me? Watch some of the Kinect Effect videos and see how the technology is already changing lives -- all without the new hardware or final SDK.