Retailers prepare for Black Eyeday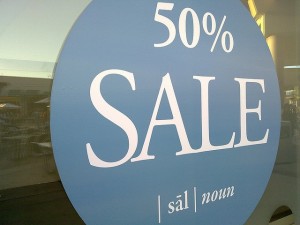 By measure of discounts, tech retailers are running scared this holiday -- well, all perhaps other than Apple, which discounts range from puny 7 percent to 16 percent. Elsewhere big discounts mean retailer state of fear and expected Grinch-like consumer demand.
"Overall we have seen nothing, either in the first couple of hours of Black Friday shopping or in the pricing and product tactics of the industry, to make us change our viewpoint to expect a very weak holiday season", Stephen Baker, NPD's vice president of industry analysis, says. How grim will be the Holiday reaper? "NPD has been predicting that this would be the worst holiday since 2008, on a revenue basis, and the early season [discount] aggressiveness from the industry confirms this level of concern".
He emphasizes:
Weak economy, and considerable consumer anxiety have shifted the retailer focus to promoting products that can drive incremental traffic into the stores. As a consequence, we have seen record-low pricing across a number of core categories with TVs leading the way. Notebook PCs, video game systems and software, and Blu-ray players have also seen significant price drops with the hope of driving motivated customers into the stores.
Arguably the hottest category of the season sees the fewest discounts. "We haven't seen as aggressive pricing in tablets and e-readers where the leading products are typically covered by MAP pricing, and the alternatives are not perceived to be of sufficient customer interest to be worth the expense of Black Friday pricing and promotion", Baker says. For Black Friday, Apple discounts the entry-level iPad 2 for 10 percent. That's not exactly a fire sale.
Not surprisingly, the National Retailers Federation puts a smiley face on the first big sales weekend. The trade group predicts 152 million Americans plan to shop over the three days. But the number is really a stretch. Only 74 million definitely plan to "hit the stores", while 77 million will wait and see on sales and other promotions.
Many stores opened late Thanksgiving evening or Midnight today. My local Microsoft Store did 12 am, for example.
NRF coordinated with BIGresearch on Americans shopping plans, which include watching for deals through social networking sites. "Social media will play a big role in how shoppers follow company sales announcements this holiday season", Phil Rist, BIGresearch executive vice president, says. "From Facebook to Twitter and even group buying sites, social retailers may be rewarded this season in terms of additional holiday sales".
Seventeen percent of shoppers plan to monitor retailer Facebook pages, while another 11 percent will look to Groupon and LivingSocial, according to NRF. Tablet shoppers will go social for deals -- 21 percent looking on group-buying sites and 31 percent monitoring retailers' Facebook pages. However, based on NPD's research, deals won't be many. I haven't seen much. Have you? But soon after I posted a Verizon ad on BetaNews led me to one: Motorola XOOM LTE for $199.99 with new 2-year activation. Whoa.
By the way, Betanews reader "wav" suggested "Black Eyeday". He writes in email: "I think I've coined the term, Black Eyeday, and I think it should be used. Since I am no journalist I am passing it on to you. :)" I Binged and Googled and didn't find the term used in context of Black Friday.
Photo Credit: Joe Wilcox