Which store offers better Black Friday deals? Apple or Microsoft?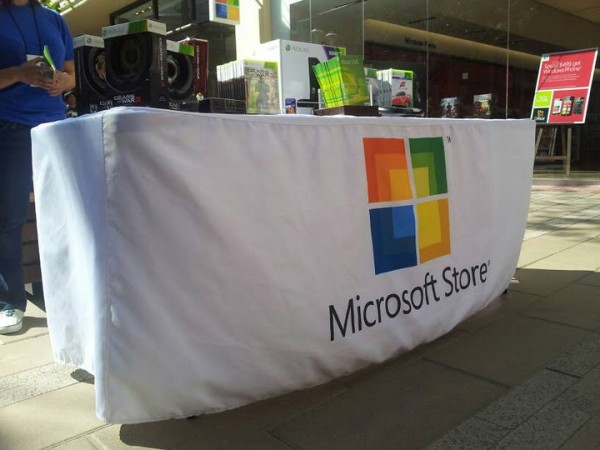 Consider yourself lucky if living nearby one of the 14 Microsoft stores -- there are big savings for you today and over the weekend. Live nearby one of the 330 or so Apple shops -- well, you can shop Microsoft Store online for real bargains.
Black Friday is perhaps the one day of the year where Apple and Microsoft differences in retail pricing and digital lifestyle are most pronounced. Apple continues its "pay-more" philosophy, which granted is good for margins and keeps shareholders happy, while Microsoft focuses more on value. That's all assuming Windows PCs at much lower selling prices are more valuable to you than costlier Macs. Hey, more Americans drive mini-vans than Mercedes. But plenty of others can afford and will pay more.
Probably Apple's best deal going is 11.6-inch MacBook Air for $898 -- that's $101 off -- and gets it down to the price of new competing Ultrabooks from HP and Toshiba. Or you could spend a lot less on a Windows laptop. The two best deals already are sold out online (and they weren't available in stores, being older models):
Acer Iconia dual-screen toucbook -- $599, dropped from $999. I've seen this beast in stores. It's huge and strange conception, being two screens and touch keyboard.
Sony VAIO S137GX -- $599, discounted from $999. It's not the newest model or most-recent Intel Core i5 processor, but there's much to like here, such as the luscious 13.3-inch display.
As I write, the Samsung RC512 laptop is still available online for $499, which is $300 off, and in stores. It's a beast -- 15.3-inch LED display but with only 1366 x 768 resolution, 2.3GHz second-gen Core i5 processor, 4GB of DDR3 memory, 500GB hard drive and all the extras you expect, including two USB 3.0 ports.
Back at Apple Store, iPhone 4S is available for helluva discount during Apple's "special pricing event": None. It's standard starting pricing of $199 for the newest model, no savings for you. However, you can score, HTC Arrive (Sprint), HTC Radar 4G (T-Mobile) or HTC Trophy (Verizon) for free with two-year contract. The Radar ranks among the best Windows Phone 7.5 models for design and specs. Apple's idea of free is the two-generations old iPhone 3GS. Free from Microsoft, using Radar 4G as example, means better camera and faster data than the 3GS, among other capabilities.
Some other Microsoft deals are only available online, like the "Ultimate Gaming Bundle", discounted $200 to $394.94. Comes with: Xbox 360 250GB; Kinect controller; Xbox Live Gold 3-month membership; 1600 Microsoft Points (for buying stuff from Live); Razer Onza Tournament Edition gaming controller; 8GB SanDisk flash drive; and free game of your choice (from limited selection).
For those shopping in store (and, of course, online) this weekend, Microsoft offers the Xbox 250GB Kinect Holiday Bundle for $299 -- that's $100 off -- or same as regularly priced non-Kinect model.
Microsoft offers 25 percent off all accessories (from any manufacturer), while Apple discounts some of its stuff. The Apple Magic Mouse is $58 -- that's 11 bucks off. Microsoft Touch Mouse costs more, $59.97, from a higher starting price ($79.95). Apple Wireless Keyboard is 11 bucks off at $58. Microsoft's Wireless Comfort Desktop 5000 (with ergonomic keyboard and mouse) is $59.97. Price is a little higher, but, hey, there's a wireless mouse, too.
Apple discounts iPad 2, and you won't find much comparable at any price from Microsoft Store. The entry-level price is $458 today, or a $41 savings. You can invest that extra in a Product Red smartcover, selling for $58, which is $11 off.
If you spend $699 or more on a Windows PC, Microsoft offers a $100 store coupon (e.g., gift card). Okay, maybe. Sales rep at my local Microsoft Store, which opened at Midnight, says that special ended at 6 am. However, online the deal is listed as still available.
Finally, in store only, Microsoft offers heap big discounts on overall purchases -- 15 percent for $100 - $499, 20 percent for $500 - $999 and 25 percent for $1,000 or more. Microsoft advertised those discounts before Black Friday. I saw them in store last week. So, I'll correct that statement about Microsoft not offering much discounted against iPad 2. With Microsoft Store's 20 percent discount, the Acer Iconia Tab W500 tablet, with dual-core processor, 32GB SSD and ATI graphics running Windows 7 Home Premium, would be $439.20, nearly 20 bucks less than Black Friday-sale priced iPad 2.
By the way, circling back to where I started, MacBook Air, Microsoft's 25 percent discount puts the comparable Samsung Series 9 laptop at $861.75, or $36.25 less than MBA. Apple's special pricing is today only. Microsoft's discount goes longer.
Where will you shop today? You see better deals elsewhere? Please share with other readers in comments.
Photo Credit: Joe Wilcox