RPost debuts registered email app for BlackBerry



RPost provides a service for serious emailers that turns e-mails from any origin into official registered documents that can be encrypted, tracked, and verified for legal purposes or "e-signed" for contractual reasons.
This week, RPost is officially launching its registered email service for BlackBerry with the RPost app for BlackBerry. This application integrates into BlackBerry's native email client, and lets users choose to "Send Registered" emails from their mobile devices, which are the same trackable, encrypted, time-stamped messages that are sent from RPost's other platforms.
The principal features of the service are its HIPAA-compliant encryption; the ability to track when the recipient opens the email with an official timestamp; the ability to send e-signature documents; and the ability to receive auditable, time-stamped proof of content in replies to the BlackBerry sender's email.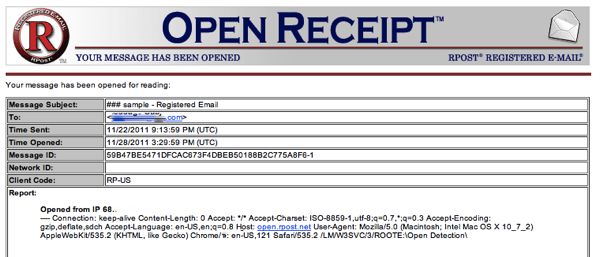 "Normally, people don't send very long documents from their mobile devices," Said Fernando Neves, General Manager at RPost. "And the use is a little different from your usual emails. But we see a lot of things going on. Many professionals, such as corporate lawyers or real estate agents, need to be able to compose secure, verifiable, legally provable documents at all times. This way, they can protect future discussions and cover any liabilities. When times get tough, people do need to be protected."
RPost has been testing this mobile client in closed beta since October of 2010, and until now, only existing RPost customers could get the application to deploy to their internal users. Now, the beta period is officially over, and the company is looking to extend its reach to new clients...not solely RPost subscribers, but BlackBerry users.
"Right now we have an adoption rate around 41 or 42 percent for the mobile client," said Neves. "We expect a lot of BIS users, subscribers with AT&T and Verizon, to consider the service."