Seagate's 3rd gen Momentus XT hybrid HDD/SSD is ready to steal the show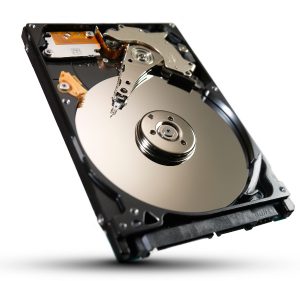 Seagate has officially taken the wraps off of its third generation hybrid HDD/SSD drive, the Momentus XT, a drive which the company has tailored to the demands of tech savvy users and "prosumers."
In its third generation, Seagate's XT line finally looks to be mature and ready for widespread use.
Seagate will be the first company to tell you that the first generation of its hybrid hard drive wasn't anything to crow about in 2006. It just didn't live up to expectations, the company admits.
After working on the product for more than two years, the big development in Seagate's Momentus XT last year was that it had broken free from Microsoft's ReadyDrive, a feature from Windows Vista that let hybrid hard drives access data from the nonvolatile cache, allowing the hard drive to remain spun down for longer periods of time. With the ability to work with any OS, Momentus XT shipped in late May 2010 with just a single OEM...Asus.
But over the course of the year, Dell, Alienware, Toshiba, and Sony all got on board with the Momentus XT, and now over 1 million have shipped.
The third generation Momentus XT will launch with all these OEMs plus two more that Seagate hasn't yet announced, it will have 50% larger capacity (750GB/500GB models) and double the NAND flash memory (8GB/4GB), be 1.5x faster than the last generation with a 2x faster interface speed (6 Gbps SATA) and feature new "FAST Factors" (fast boot, adaptive memory, and fast management.)
Often, we hear boot time used as one of the big metrics for the speed of a drive. Seagate said that even though the new Momentus XT cold boots twice as fast as the last generation, nobody really cares. Ideally, we'd only have to do one cold boot per day, so the real important metrics are reliability, overall performance and battery life.
So in terms of reliability, Seagate says the 750GB/8GB model has 600,000 load/unload cycles. In terms of performance, it has SATA data transfer rates of 6,3, and 1.5 Gb per second, and an average seek time of 11 milliseconds for read and 13 milliseconds for write. And in terms of battery life, it typically consumes 1.1 Watts of power at idle and 3.3 Watts when seeking.
On their own merits, these specs aren't too difficult for a modern notebook HDD to outdo, so the important part is the integration with the SSD component and how this affects performance as it learns user behaviors and allocates storage accordingly. As we see in the graph below, Seagate was able to get applications to start just as quickly as a full SSD drive.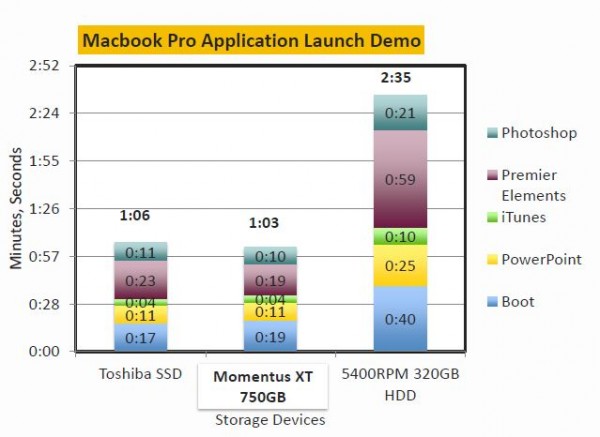 The third generation Momentus XT 750GB/8GB model carries an MSRP of $245 and will be available today through Amazon, Newegg, Tigerdirect and several other retailers; and will be available as an option through PC manufacturers soon.