CameraBag beta brings vintage camera filters to Windows and Mac OS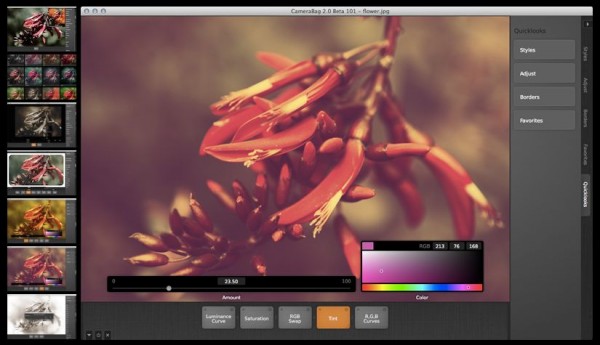 In the last couple of years, "vintage camera" apps have become a genre of their own, led by the likes of Instagram and Hipstamatic, and followed by Retro Camera, ShakeIt, CameraBag, and many many others.
The popularity of that type of application has remained mostly a mobile phenomenon. Nevercenter, the software house that created CameraBag, however, has turned the popular mobile app into a desktop photo editing application. The company this week has released the beta of CameraBag for Windows and Mac OS.
Like the mobile application, the main purpose of the CameraBag desktop application is filtering. It includes vignette simulation, color correction, and curve editing, and lets users create their own filters that they can save and apply whenever they like. It includes other photo editing features such as crop, straighten, and contrast and exposure controls, but these are somewhat standard features, and really not the main selling point of the application.
Naturally, the point of this app is that it brings customizable "analog" filtering to digital photographs in a simple interface that reminds us of the strong impact mobile application design is having on desktop software.
Download CameraBag for Windows 2 Beta 101 in Fileforum now!
Download CameraBag for Mac OS X 2 Beta 101 in Fileforum now!