Skype for Android adds photo and video sending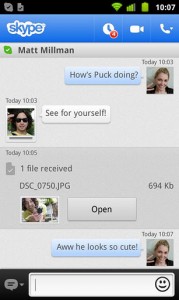 Why keep those special moments to yourself, when you can share them with the people that matter most? There's Facebook, or even Google+, but what good is that when you're Skyping Claire Beauvoir in Brussels and you're in Washington, DC? Today, Skype 2.6 posted to Android Market, and its big new feature is sending photos and videos. Share and share alike. The new capability works over cellular data networks as well as WiFi.
"We've also improved battery life and video quality with Skype 2.6 for Android on devices using Nvidia's Tegra 2 chipset, which include amongst others; the Samsung Galaxy Tab 10.1, Motorola XOOM and Acer Iconia Tablet. Now you can take full advantage of the big screen with better video quality than ever before", says Dan Chastney, Skype senior product manager.
Over Black Friday weekend, I bought the XOOOM LTE from Verizon for $199.99. Perhaps in the future I'll report on just how improved that video quality really is. But I'm short a writer today here at BetaNews, and the stories are stacked up. Or you can now in comments.
Skype 2.6 for Android also improves battery life and voicemail. It's available now from Android Market.