Make Windows run faster with JetBoost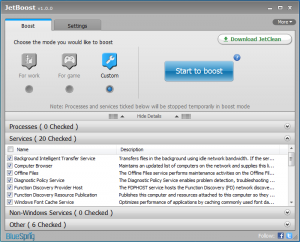 Utilities developer BlueSprig has released the first full version of JetBoost, its free PC speedup tool, which aims to optimize system performance by temporarily closing down unnecessary processes. And while this kind of application can get a little complicated, JetBoost's emphasis is on simplicity, with the program doing its job in just a click or two (although if you'd like to take control, then you can get more involved in exactly how JetBoost works).
At its most basic, then, you can use the program just by choosing whether you'd like to optimize your system for a work-related application, or a game, before clicking the "Start to boost" button. JetBoost will then close down surplus Windows services, clear the clipboard, activate the High Performance power plan and apply a few other tricks to free up system resources. You can run your game (or whatever) to take advantage of this, clicking the "Stop" button when you're done to restore all your services and settings and carry on where you left off.
This kind of Windows service tuning generally won't deliver major benefits; our test system saw an increase in free RAM of around 50MB, for instance. Still, our PC was already fairly well optimized, so you may see better results in some cases. And other options used here, like turning on the High Performance power plan, can help to make a very real difference.
If you'd like to free up even more resources, though, you can always switch JetBoost to "Custom" mode. And then you're able to choose running processes and third-party services which you'd also like to be temporarily closed whenever you click the Boost button. You need to be careful here, of course, as closing something important could cause all kinds of PC problems. But choose wisely and JetBoost will be able to free up many more system resources, so delivering a more significant speed boost for the programs which really need it.