December 29 is 'Dump Go Daddy Day'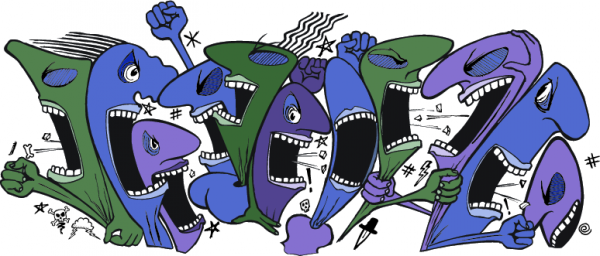 My idiots of the year award almost certainly will go to Netflix and Go Daddy, which tarnished their brands through nothing more than sheer stupidity (there are still five days in the month for your organization to royally screw up and claim the honor). Both companies tried to step back from the brink, only to watch tens of thousands of customers fly over the edge into the "frak you" abyss. I can't decide which company's actions is stupider; Go Daddy's idiocy is more recent, and the damage still unfolds.
In midsummer, Netflix raised prices and later proposed splitting into two companies. Following customer outrage, which included thousands of departures, Netflix nixed the split but not the price hike. Go Daddy's situation is potentially much worse. The registrar supported the Stop Online Piracy Act, only to change position on December 23, a day after updating reasons for standing behind the proposed legislation. SOPA support is over, but customer outrage -- and defection -- is not. December 29 has been dubbed "Dump Go Daddy Day", not that many of its customers are waiting that long.
Atlantic Wire reports that reddit user selfprodigy proposed December 29; selfprodigy is "moving my small businesses 51 domains away from them, as well as my personal domains...I'm suggesting Dec 29th as move your domain away from Go Daddy day because of their support of SOPA. Who's with me?"
Unless I'm mistaken, domaincontrol.com is Go Daddy's primary domain server, with more than 32,000,000. Recent activity is heavy. Early this afternoon, domaincontrol.com is among the three most active, with 22,542 domains transferred out just today and just 30,090 new ones or transfers in. That's according to DomainTools Daily Changes. But is that unusual? I looked back randomly ("in" refers to new or transfers in):
October 26: 54,773 in, 16,407 out
November 26: 41,100 in, 9,738 out
December 1: 60,966 in, 15,899 out
December 15: 95,828 in, 12,909 out
December 23: 53,477 in, 15,093 out
Unquestionably, the number of transfers out is up but it's not more than a nick -- customers have yet to even open a vein. It's one thing to say, "Hell, yeah, frak Go Daddy" and go elsewhere. It's another thing to do it. I've got 34 domains (mostly variants of just a few) with Go Daddy and, ironically, two expire on December 29. Changing registrars means spending money I can't afford. Surely, many other people have similar situation.
The question shouldn't be how many but whom? Go Daddy is domains on the cheap -- well compared to, say, Network Solutions, which for me, many Net longtimers, was my first registrar (back in the days when known as InterNic; I secured my first domain in August 1995). Is it the average Joe like me or people who might be affected by SOPA -- or perhaps both?
House representatives introduced SOPA in October, following Senate bill PROTECT IP introduced in May. (Review the bills: PROTECT IP. SOPA.) Either bill would give the government broad powers to take down websites, seize domains and compel search engines from indexing these properties. Little more than a request from copyright holders is necessary. It's essentially guilty-until-proven-innocent legislation that would punish the many for the sins of the few, while disrupting the fundamental attributes that made the Internet so successful and empowered so many individuals or businesses to accomplish so much.
Go Daddy had worked with Congress on the bill, last week suddenly doing a turnabout -- and like Netflix in response to customer outrage. "Go Daddy is no longer supporting SOPA, the 'Stop Online Piracy Act' currently working its way through US Congress", according to a December 23 press release. That's quite a bit different from "Go Daddy's position on SOPA", which posted to the registrar's support site a day earlier but was later replaced with: "We've listened to our customers. Go Daddy is no longer supporting the SOPA legislation". I saved the December 22 page as PDF for your review.
Go Daddy's turnabout doesn't satisfy some customers, as the proposed boycott shows. My question for you: Will you move your domain -- or take other business, such as web hosting -- from Go Daddy because of SOPA or PROTECT IP support? Please answer in comments and, please, give your reasons.
Based on the transfers-out data I see, Go Daddy's problem is more one of perception than meaningful customer losses. That said, domain prices go up everywhere next month. So time is right for a surge in new domain registrations or transfers, and that could work against Go Daddy. Perhaps there will be more to this story on December 30, eh?