Microsoft expects IE9 to claim 25% of browser market in December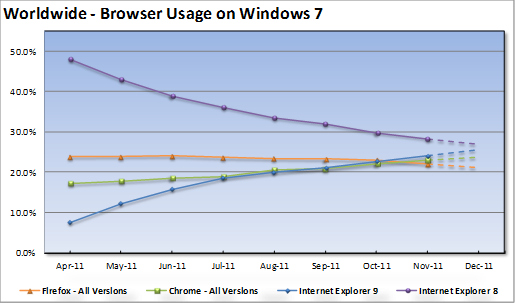 Microsoft's Internet Explorer team announced on Friday that IE9 has passed both Firefox and Chrome in market share, and will soon be the number one browser among Windows 7 users according to data from Net Applications.
Though data from the month of December is not yet complete, the Internet Explorer team expects IE9 to close out the year with a quarter of the browser market as users upgrade from Internet Explorer 8.
"Maybe it's a bit early to list [IE9 as the leading Windows 7 browser] since we still have a little ways to go, but we are quickly heading in the right direction, which definitely earns a spot on the top 10 list," Said Roger Capriotti, Internet Explorer Marketing Director on Friday.
Inspired by Net Applications' last round of tallies last October, we polled BetaNews readers about their primary browser, and Chrome and Firefox led by a wide margin. Only 8.7 percent of our readers said IE9 was their primary browser at the time (That number has since grown to around 16 percent).
Upon looking at the results, BetaNews Managing Editor Joe Wilcox asked "My God, Does Anyone use Internet Explorer?"
Our results, however, were not operating system-specific, and our daily traffic reports show lots of our readers are coming to us on Linux and Mac OS machines in addition to Windows machines.
So yes, Joe, people use Internet Explorer; and the interesting trend to watch is the length of time it takes for the legacy version to be replaced. As IE9 rises, IE8 declines, and according to Microsoft's projections, IE9 should pass IE8 in market share some time before the March 15th anniversary of IE9's release.
At that point, one year in, the browser will have reached the "majority" phase of adoption.