Broadcom debuts next WiFi standard at CES 2012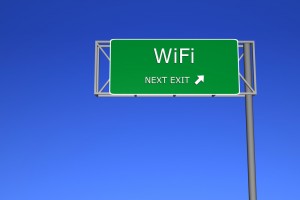 Broadcom says it is using the platform of the Consumer Electronics Show next week to debut fifth generation wireless networking technology, dubbed 802.11ac. The wireless standard promises speeds of up to 1.3Gbps, which would make 802.11ac about three times as fast as 802.11n. It will also be about six times as power efficient, perfect for portable devices.
802.11ac promises greater range than its predecessors. While like previous technologies, top speeds are only attainable less than 10 meters from the transmitter. However, due to the speed bump alone 802.11n speeds are still theoretically attainable 60 meters away. This obviously makes wireless networking more viable in larger spaces.
Increased speed allows for devices to transfer a greater amount of data in a shorter time, which conserves battery power. In most portable devices, WiFi connectivity is one of the biggest draws on the battery. By eliminating the need for long connection times to download data, battery life of these devices will then increase, Broadcom argues.
The company will release four chips initially: the BCM4360, BCM4352, BCM43526, and BCM43516. Samples of these chips have been sent to manufacturers for testing, and Broadcom plans to demonstrate the capabilities of 802.11ac to CES attendees.
Several electronics companies including Asus, D-Link, Huawei, and LG have announced plans to integrate the technology into future products. No announcement has been made on a time frame for consumer availability, however.
Photo Credit: 21thDesign/Shutterstock