Huawei's thin smartphone leads slate of compelling mobile devices at CES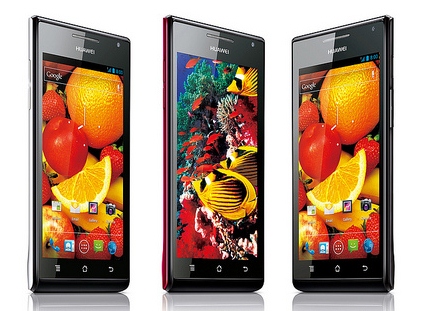 There's always the race at the Consumer Electronics Show to be the smallest, the lightest, the thinnest, the biggest. Huawei is following that strategy, debuting the Ascend P1 S on Monday. At 6.68mm thick, it claims to be the thinnest smartphone on the market. For comparison purposes, look at iPhone 4S, which measures in at comparatively stout 9.33mm, or the Galaxy S II, also a little overweight at 8.49mm.
The Ascend runs Android 4.0 Ice Cream Sandwich, and features a 4.3-inch screen with Corning's Gorilla Glass. You have to wonder though if Huawei waited a bit could it have slimmed down the Ascend even more with the new thinner Gorilla Glass 2. Other features include a 1670/1800mAh battery depending on the model, 8-megapixel rear-facing and 1.3-megapixel front-facing cameras, HD picture capabilities and integrated WiFi and Bluetooth.
Huawei plans to release the Ascend in Europe, Asia-Pacific, North America, Australia, Middle East and China starting in April.
But wait, is it really the thinnest? Fujitsu may stake a claim to that as well, showing off the eu on the show floor. At 6.7mm it's really svelte, and includes a similar feature set to the Ascend, although available only in Japan. That's not the company's blockbuster device, though. It teased one hell of a device to attendees of CES Unveiled in a promotional flyer handed out on Sunday.
We haven't seen it yet on the show floor, but here's what the flyer reads: Android 4.0 ICS and Tegra 3 quad-core processor. BetaNews is definitely looking for this one and we'll report more.
LG's Spectrum will also catch the eye of journalists and bloggers at CES. This device's hook is its 720p HD capabilities. The display uses in-plane switching, which is the same technology found in large-screen, high definition televisions to improve viewing angles and enhance color reproduction. The 4.5-inch screen is on the larger end of the scale, and LG has partnered with ESPN ScoreCenter to offer exclusive HD content. LG's webiste promoting the device makes it seem aimed at the sports fan.
With a LTE or WiFi connection, users are able to view the exclusive HD ESPN stream. A Qualcomm 1.5GHz processor powers the device, and it includes an 8-megapixel rear-facing and 1.3-megapixel front-facing camera. A 16GB SD card will come installed with the device, and it runs Android 2.3 "Gingerbread". LG says an update to ICS will be available later in the year.
The Spectrum debuts on Verizon Wireless January 19 for $199.99 with a two-year contract.