It's a smartphone, no it's a tablet -- Samsung Galaxy Note comes to AT&T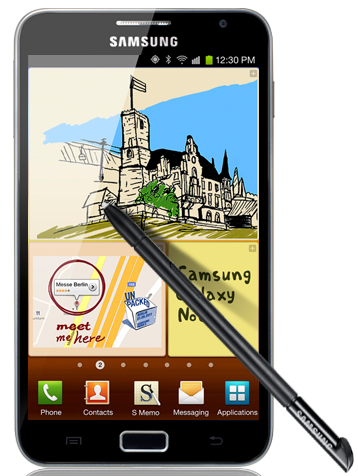 Before buying Galaxy Nexus last month from Verizon, I considered holding out for Galaxy Note, after hearing confident rumors about AT&T bringing it stateside. The idea of sketching and taking notes on a smartphone appealed. Samsung had created something of a hybrid -- a cross between a smartphone and tablet. Then I saw a Samsung media player on display at Best Buy, with a similar size screen -- 5.3 inches. Galaxy Note is too big for me. Is it for you?
AT&T and Samsung officially announced Galaxy Note LTE -- the third big 4G phone announced today for the carrier, the others being Nokia Lumia 900 and HTC Titan II (technically there were a half-dozen LTEs); all done at Consumer Electronics Show 2012. Galaxy Note has something of an identity crisis, being a phone, mini-tablet and S-pen -- that's stylus to you, bud -- device. The hybrid is meant to be used for drawing as much as touch, and I see it designed for more of a niche market -- unless of course 5.3-inches, and that's just the screen, isn't too big for your pocket.
Galaxy Note has been available internationally since autumn, and its announcement today isn't sure sign of a quick debut here stateside. I haven't seen pricing or availability yet. The smartphone-tablet features the aforementioned 5.3-inch Super AMOLED display (did I say it's big) with 1280 x 800 resolution, 1.5GHz dual-core processor, 8-megapixel rear-facing and 2MP front-facing cameras, 1080p video recording, 16GB internal storage expandable to 32GB with storage card, 2,500 mAH battery and more. The capacitive touchscreen device runs Android 2.3.6.
I have to ask. Would you buy this Frankenstein device?