Hands-On: Android 4.0 devices hook up to any HDTV with MHL [video]

Last week, when Roku debuted the Smart Stick, essentially a set-top-box in a USB stick form factor, I made a point to seek out products at the Consumer Electronics Show that utilize the Mobile High-definition Link (MHL) standard that the Roku Smart Stick uses. Fortunately, I found representatives from the MHL Consortium who were more than happy to show how easy it is to connect an Android device to an MHL-compatibile television, and witness the uncompressed MHL experience first hand.
As of right now, there are about 50 devices (smartphones, televisions, tablets, etc) that support MHL; with the majority of them coming from South Korean CE leader Samsung.
But one of the most exciting things about MHL right now is that you don't have to wait to upgrade your TV to start using it. If you have a mobile device such as the Galaxy Nexus, or the HTC Rezound or Sensation, you can get a $25 converter and immediately start taking advantage of MHL.
The Accell MHL-to-HDMI converter, for example, lets you hook up your mobile device and immediately begin using MHL. This means your smartphone or tablet will charge over HDMI, it will output video up to 1080p and up to 8-channel audio, and it will become controllable with your television's remote control via the RCP (remote control protocol).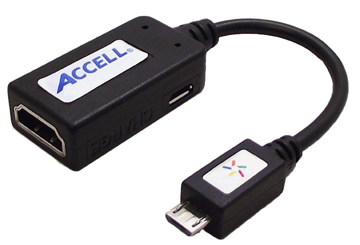 It's a cheap addition to anyone's bundle of cables and empowers your HDMI cable with the awesome MHL standard.