Microsoft search share tops Yahoo, and, whoa, that's not a good thing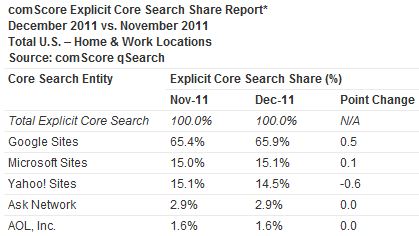 I told you so. In summer 2009, I asserted that the Microsoft-Yahoo search deal was "Google's Christmas-in-July present". Reasoning: By Yahoo outsourcing search to Microsoft, Bing would cannibalize share from its partner rather than lead to the combined entity gaining against Google. Last month, Bing US search share nudged ahead of Yahoo, according to comScore. It's a setback for Microsoft.
Google remains the big winner in the search share wars with Microsoft. In June 2009, the month before the announced search outsourcing deal, Google share was 65 percent. Yahoo and Microsoft were 19.6 percent and 8.4 percent, respectively, or 28 percent combined. In December 2011, Google search share was 65.9 percent, Microsoft 15.1 percent and Yahoo 14.5 percent -- for combined 29.6 percent. That's lower than November when Microsoft-Yahoo share was 30.1 percent. The point: Little has changed since the search deal was announced, except that Microsoft has cannibalized share from Yahoo.
Well, something else changed. Yahoo gave up its crown jewels to Microsoft, only to end up worse for wear in market share. Microsoft gives hundreds of millions of dollars to Yahoo, for search share that could have been gained organically and probably was -- as the software giant improved Bing and unleashed compelling advertising. Microsoft is in process of making Bing more of a development platform with Windows 8, where developers can easily tap the service into their products -- a move that can grow share irrespective of Yahoo.
For Bing, the search share gains are impressive. One year earlier, December 2010, Microsoft share was 12 percent and Yahoo 16 percent, for combined 28 percent. Google was 66.6 percent. Oh? 666. Who says Google isn't evil? ;-)
Of course, Microsoft should gain as much search share as possible. But the gains need to come from Google, not Yahoo. Looking over the historical data, there have been ups and downs for all three parties but one constant: Microsoft taking share from Yahoo and not Google.