Motorola Xoom tablet gets upgrade to Android 4.0 starting today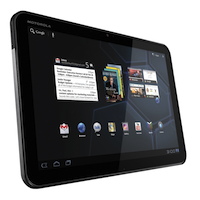 Motorola Mobility on Wednesday announced its popular Xoom Wi-Fi tablets will be the first of the company's Android-powered devices to receive the upgrade to Android 4.0 (Ice Cream Sandwich,) beginning immediately.
Xoom was actually the first major tablet to be released running Android 3.1 (Honeycomb), the somewhat ill-conceived "tablet only" version of Android. With today's rollout of the Ice Cream Sandwich upgrade, it becomes the first Honeycomb tablet to receive the operating system upgrade.
Motorola said the over-the-air upgrade will begin rolling out "in phases over the course of a few weeks," and that users will be notified when their upgrade is available.