Got Android? Get Firefox 10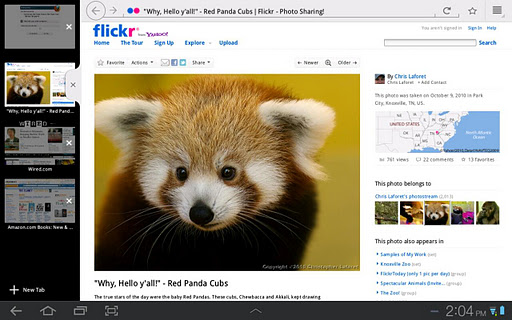 Hey, Firefox fans, don't settle for just the desktop browser that popped up on Mozilla servers overnight. Firefox 10 mobile is also available at the Android Market. While the big browser offers significantly improved plug-in support, it's still DOA on the small one. That means no Adobe Flash for you, Bud.
New features include anti-aliasing for WebGL and accelerated layer-support via OpenGL ES. Firefox 10 mobile improves sync and HTML5 capabilities, as well. Among the fixes: "Extremely rare case where the browser may become unable to load web pages or close tabs".
The mobile browser requires Android 2.0 and above. I installed and ran it just fine on Verizon Galaxy Nexus with Ice Cream Sandwich. However, I find Firefox 10 mobile to stutter compared to Android's built-in browser and lacking Flash to be annoying. Even with the extra burden of Flash, Android's browser feels smoother.
So if you're a big Firefox fan looking for Flash, plug-in support and smooth, fast mobile browsing, 10 isn't your lucky number.